Hosford featured in 'Metamorphoses' exhibition at Frist
May. 18, 2012, 11:47 AM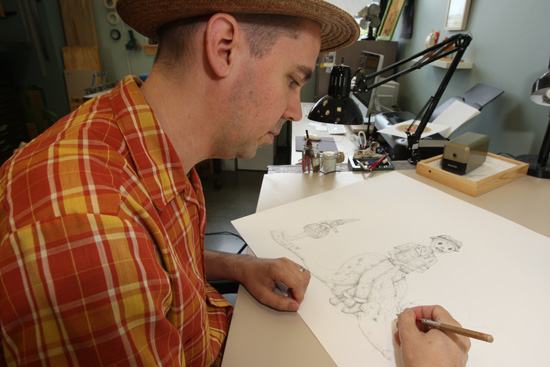 Works by four Nashville-area artists – including Vanderbilt Associate Professor of Art Mark Hosford and alumna Kristi Hargrove – will be on view in the Frist Center for the Visual Art's Conte Community Arts Gallery June 8-Oct. 28.
Metamorphoses, which also includes work by Erin Anfinson and Chris Scarborough, features 41 drawings that reveal scrupulously rendered forms, the origin of which are often unclear, conveying a sense of mystery and transformation.
Each of the artists featured in Metamorphoses approaches drawing differently, reminding viewers that of all the arts, drawing is considered among the most personal.
"This is an exhibition to which we all can relate," said Frist Chief Curator Mark Scala.  "Nearly everyone has made some sort of drawing, whether it be free-form doodle or a finished work of art. In the case of Metamorphoses, we see artists combining the unfettered invention of doodling with virtuosic manipulation to create forms that seem both real and dreamlike."
For example, in his Rorschach Series, Hosford appropriates templates of the famous inkblot test, which was designed to reveal the viewer's hidden psychological tendencies. He transforms these symmetrical organic forms by inlaying his own eccentric imagery composed of monstrous creatures and hybrid beings reminiscent of the dark animation of the Brothers Quay and Tim Burton. The works hilariously reverse the instrument of psychology by showing us right up front what horrors lie within the mind. Hosford specializes in printmaking, drawing and animation, using narrative imagery to explore social curiosities and personal obsessions, in additional to serving on the art faculty at Vanderbilt.
In intimate drawings that float between abstraction and recognition, Hargrove pushes the boundaries of pencil, pen and paper. She explores the psychology of perception, in some instances creating realistic illusions and in others employing collage or the physical properties of paper to create actual space and depth. Hargrove's studio practice is primarily drawing but includes investigations into other mediums such as photography, sculpture and installation. She received a bachelor of arts degree from Vanderbilt, a master of fine arts degree from the Vermont College of Fine Art and is a member of the Nashville artist collective Coop, a curatorial group committed to expanding the city's dialogue with contemporary art by presenting challenging, new or underrepresented artists and artworks in the community. Hargrove serves as assistant professor of fine arts at Watkins College of Art, Design and Film.
Scarborough re-envisions everyday subjects, skillfully merging depictions of people and animals with fragmenting or even exploding forms. Titles like "The Economist" and "The Modernist" provide a clue to the underlying imagery that is often obscured by random explosive inventions, encouraging viewers to come to their own conclusions about the strange metamorphosis taking place.
Anfinson participates in a type of voyeurism by depicting an imagined bodily interior in excruciating close-up. In her series The Migration of the Disruptors, inspired by the artist's concern with the adverse effects of certain chemicals and pharmaceuticals on the endocrine system, twisting colonic shapes slowly dissolve into pictorial chemical bonds, provoking a strange transformation of the human interior into a universe of degradation and self-renewal.
On Thursday, July 12, Hosford, Hargrove and Anfinson will participate in an artist's forum beginning at 6:30 p.m. in the Frist Center's Rechter Room. The event is free.
The Frist Center for the Visual Arts is supported in part by the Metro Nashville Arts Commission, the Tennessee Arts Commission and the National Endowment for the Arts.
Contact: Maggie Carrigan, (615) 744-3351
mcarrigan@fristcenter.org