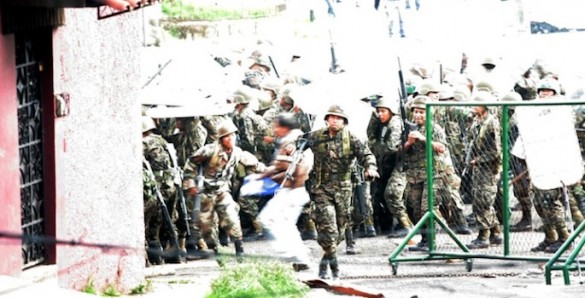 Direct experience with government corruption—being solicited for a bribe—increases citizens' support for military overthrow of a democratic government, according to a survey conducted by Vanderbilt University.
However, public perception that a government is taking steps to remedy corruption can go a long way toward reducing support for a coup, said Brandon Bell, a fellow with the Latin American Public Opinion Project in Vanderbilt's political science department.
"It is important that international organizations and aid agencies do not limit anti-corruption efforts solely to those countries with already well-established anti-corruption programs," wrote Bell in the report, "When Do High Levels of Corruption Justify a Military Coup?"
Such a hard-line stance creates a "vicious cycle" that makes it very difficult for countries to rise above the perception of being corrupt, Bell said.
"The literature suggests that this lack of ability to apply for aid diminishes the possibility of effective anti-corruption programs, thus negatively affecting public perception of government efficacy where corruption is high," Bell said.

Bell analyzed data from the 2010 AmericasBarometer survey by The Latin American Public Opinion Project (LAPOP), which that year interviewed 40,990 respondents in Latin America and the Caribbean. LAPOP was founded by Mitchell Seligson, Centennial Professor of Political Science at Vanderbilt. LAPOP's associate director, Elizabeth Zechmeister, oversees the LAPOP Undergraduate Research Fellow program in which Bell participated in the spring of 2012.
Belize, Mexico, Peru, Guatemala and El Salvador rank as the top most susceptible nations with more than 50 percent of those polled in each nation indicating support for a coup under conditions of perceived high corruption. Argentina, Suriname, Panama and Chile are the least susceptible, all below 30 percent.
"The great majority of countries are within the 30 to 40 percent range," Bell noted.
Citizens who are older, more educated or wealthy are more likely to oppose military takeovers during periods of high corruption. However, the least wealthy do not show more support for a coup than the middle classes.
LAPOP develops, implements and analyzes public opinion surveys. Since the 1970s, LAPOP has gathered a treasure-trove of databases containing political perspectives from Latin America and the Caribbean. LAPOP data and reports are available to interested researchers at the LAPOP website.
Bell graduated from Vanderbilt in May and, as of June, he will be working for Sen. Saxby Chambliss, R-Ga.