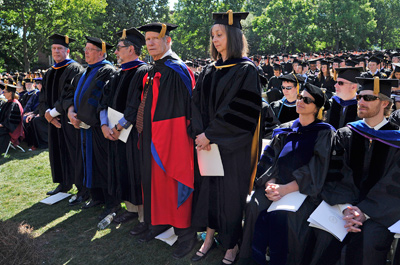 Nineteen retiring faculty members were recognized during Vanderbilt's Commencement ceremony May 11, when the university honored their years of service and bestowed on them the title of emeritus or emerita faculty. They are:
George S. Allen, professor of neurological surgery, emeritus
Allen, who became a professor and the chairman of the Department of Neurological Surgery at Vanderbilt in 1984, began his research on cerebral arterial spasm at the University of Minnesota. Later, at Johns Hopkins University, he directed the neurosurgical training program and undertook clinical trials demonstrating that nimodipine, the calcium channel blocker he discovered in his basic research, was effective in human patients and prevented many strokes from brain arterial spasm by preventing the spasm. This was first reported in the New England Journal of Medicine by Allen, and nimodipine continues to be a medicine given to many aneurysm patients more than 25 years later.
At Vanderbilt, he recruited and worked with Noel Tulipan to accomplish the first adrenal brain transplant for Huntington's disease in 1987. In 1993, Allen became the first holder of the endowed William F. Meacham Professorship. Throughout his tenure at Vanderbilt, he focused clinically on benign brain tumors, pituitary tumors, aneurysms and arteriovenous malformations. For the last few years, he has limited his clinical practice to pituitary tumors and was co-director of the Vanderbilt Pituitary Center, one of the largest in the country.
Tracy Barrett, senior lecturer in Italian, emerita
Barrett joined the Vanderbilt faculty as a lecturer in 1984. Her primary focus has been on teaching and undergraduate course administration. She was instrumental in the creation of the undergraduate minor in Italian in 1995 and taught a wide variety of courses ranging from beginning and intermediate Italian to Italian Civilization and Rome Through the Ages, as well as Images of Women (for Women's and Gender Studies), first-year seminars on 20th-century British and American children's literature, and Writing for Young Readers.
In 1996, Barrett was awarded the Harriett S. Gilliam Award for Excellence in Teaching by a Lecturer. She also has been the recipient of a summer study grant on "Medieval Women in Their Own Words" from the National Endowment for the Humanities; a Newberry Library Renaissance Consortium grant; and two teaching grants from the Vanderbilt Center for Teaching. She is the author of Cecco, As I Am and Was: The Poems of Cecco Angiolieri (1994) and more than 20 books for young adults and children.
William Bernet, professor of psychiatry, emeritus
Bernet joined the faculty of the Department of Psychiatry of Vanderbilt School of Medicine in 1992. He initially was the medical director of Vanderbilt Psychiatric Hospital, then became the director of Vanderbilt Forensic Services, the program that applies psychiatric expertise to legal situations. At Vanderbilt, he taught medical, nursing and law students and psychiatry trainees, receiving the Emmett Dozier Teaching Award from the Vanderbilt Child and Adolescent Psychiatry Training Program.
Bernet's scholarship and research have focused on intriguing and provocative aspects of forensic psychiatry: the differential diagnosis of allegations of child abuse; the evaluation of allegations of child sexual abuse; testimony regarding behavioral genomics at criminal trials; and whether parental alienation should become an official psychiatric diagnosis. His publications include The Fragile Alliance: An Orientation to the Psychiatric Treatment of the Adolescent (co-authored with John Meeks); Children of Divorce: A Practical Guide for Parents, Therapists, Attorneys and Judges (co-authored with Judge Don Ash); and Parental Alienation, DSM-5 and ICD-11. Bernet is active in professional organizations, especially the American Academy of Child and Adolescent Psychiatry.
Joseph D. Blackburn Jr., the James A. Speyer Professor of Production Management, emeritus
Blackburn received his bachelor of science in chemical engineering at Vanderbilt, graduating summa cum laude in 1963 and receiving the Founder's Medal for first honors. After receiving his Ph.D. in operations research at Stanford University, he came to Vanderbilt's Owen Graduate School of Management in 1979, was granted tenure in 1981 and was promoted to the rank of professor in 1985. He was appointed acting dean of the Owen School in 1999 after the untimely death of Dean Martin Geisel. He served as senior associate dean from 2005 to 2007 and as associate dean from 1988 to 1993.
Blackburn's research and teaching in operations management have focused on time-based competition – how organizations can use faster response to customers for competitive advantage. He is the author of Time-Based Competition: The Next Battleground in American Manufacturing and an authority on accelerating new product development, streamlining supply chains, and reverse supply-chain strategy. He has won numerous honors and awards, including Outstanding Professor in the Executive MBA Program. He is a fellow of the Production and Operations Management Society and serves on the editorial board of the POMS Journal.
Jackie D. Corbin, professor of molecular physiology and biophysics, emeritus
Corbin received a Ph.D. in physiology at Vanderbilt and later joined the Vanderbilt physiology faculty in 1971, being promoted through the ranks to professor in 1980. His research specialty has been the mechanisms of cyclic GMP mediation of hormone action – how the naturally occurring cyclic nucleotide, cyclic GMP, mediates the effects of hormones, neurotransmitters and other agents on many biological processes, including blood flow, blood pressure, nerve transmission and airway distension. Corbin has published more than 270 papers on his work.
He has received an American Diabetes Research and Development Award, a Howard Hughes Medical Institute investigatorship, a Glaxo Cardiovascular Discovery Grant Award and the Vanderbilt John H. Exton Award for Outstanding Contribution to Research. At Vanderbilt, Corbin served on the Vanderbilt Graduate Education Committee and the Faculty Senate and organized the Medical Physiology course. He mentored 18 Ph.D. students and 21 postdoctoral students and served on approximately 30 thesis committees.
Ford F. Ebner, professor of psychology, emeritus
Ebner came to Vanderbilt as a professor of psychology in 1991. He is a leading expert on the stages of brain development. His work has focused on the way brain circuits continue to be modified by experiences throughout life. He has studied mechanisms related to sensory information processing and how they are matured by early experience, as well as the common mechanisms that link developmental disabilities with those caused by strokes in the mature brain.
Ebner has published more than 115 articles in top journals including Science and Nature Neuroscience, as well as 18 chapters and two books. He served on the editorial board of the Journal of Comparative Neurology and the advisory board for the Special Neuroscience Research Program for Underrepresented Minorities at Meharry Medical College. He chaired the Neurological Sciences Study Section for the National Institutes of Health. In addition to directing the Institute for Developmental Neuroscience at the Vanderbilt Kennedy Center, Ebner has played a major role in the teaching mission at Vanderbilt and in graduate student training.
Leonard C. Feldman, the Stevenson Professor of Physics, emeritus
Feldman left ATT Bell Laboratories in 1996 to accept the position of Stevenson Professor of Physics at Vanderbilt and to serve as Distinguished Visiting Scientist at Oak Ridge National Laboratory. His Vanderbilt position was later expanded to include professor of materials science and engineering within the Department of Electrical and Computer Engineering. At Vanderbilt, Feldman conceived of, created and was the first director of the Vanderbilt Institute of Nanoscale Science and Engineering.
His research field is best categorized as materials physics and surface science, mostly in electronic materials. He has written four books and published more than 400 peer-reviewed articles. He holds 21 patents in the area of materials science and has been an editor or editorial board member of numerous technical journals. Among his awards are the 1999 Adler Lectureship Prize from the American Physical Society and election to the Royal Danish Academy of Sciences and Letters. His research papers have accumulated more than 11,000 citations. He has supervised or co-supervised 17 Ph.D. students and 16 postdocs, who are now employed as university faculty, at national labs and in industry.
Robert Fox, professor of psychology, emeritus
Fox joined Vanderbilt as an assistant professor of psychology in 1963, rising to the rank of professor in 1971. His additional appointments include those in biomedical engineering and at the Vanderbilt Kennedy Center. His contributions to the Department of Psychology have included service as director of undergraduate studies, director of graduate studies and advocate for extended research facilities, which culminated in placing all department activities under the single roof of Wilson Hall in 1989.
Fox brought a research program on visual perception to the department, and with sustained support from the National Institutes of Health, the National Science Foundation and the Office of Naval Research, produced in concert with collaborators and students more than 150 research publications. These efforts combining vision and neuroscience stimulated interest in the phenomenon of binocular vision and its operation in human adults, infants and children as well as animals. As other faculty members with similar interests came to Vanderbilt, an informal research group, the Vanderbilt Visionaries, emerged and became the catalyst for the current Vanderbilt Vision Research Center, which embraces research on vision campus-wide. Through his appointment as a research professor of psychology, Fox continues his research on binocular rivalry, a unique component of binocular vision that can be used to investigate the causal role of awareness in visual perception.
D. Wesley Grantham, professor of hearing and speech sciences, emeritus
Grantham came to Vanderbilt in 1980. His primary responsibilities at the Bill Wilkerson Center have been to maintain and encourage an active research program in hearing and speech sciences. He has coordinated the research efforts of all faculty in the Division of Hearing and Speech Sciences in his capacity as director of research since 1987. His teaching includes two to three courses each year for the graduate students in the division, as well as acting as an adviser to students completing their doctorates. He has served on numerous students' academic committees and made his research laboratory and his consultation readily available to all students and faculty in the department and the center.
Grantham has conducted groundbreaking research in the areas of human auditory perception, binaural processing, auditory motion perception and, more recently, spatial hearing in individuals with cochlear implants. He has been a fellow of the Acoustical Society of America since 1996 and serves as a reviewer for the leading journals in his field of study, including the Journal of Experimental Psychology: Human Perception and Performance, Perception and Psychophysics and the Journal of the Acoustical Society of America.
Thomas A. Gregor, professor of anthropology, emeritus
Gregor joined the Vanderbilt faculty in 1975. In 1987, he became the founding chair of the Department of Anthropology and served in that position for 18 years. During that time, the department greatly expanded its offerings, increased its faculty and students, and established a doctoral program that has become a leader in the anthropology of Latin America.
Gregor is a psychological anthropologist, with longstanding research interests among native peoples of lowland South America. He is especially known for his work on gender and sexuality, psychoanalysis and culture, and the relationship of the individual to culture and society. He has received major fellowships and research grants from the National Science Foundation, the National Endowment for the Humanities, the Harry Frank Guggenheim Foundation, the Wenner-Gren Foundation and the United States Institute for Peace, among others. He is the author or editor of many scientific publications and five books, as well as a filmmaker whose work includes four major television documentaries for the BBC, Granada Television and public television in the United States. He continues an active program of field research among indigenous peoples in the Upper Xingu region of Central Brazil.
George C. Hill, professor of pathology, microbiology and immunology, emeritus; professor of medical education and administration, emeritus
Hill served on the faculty at Meharry Medical College for 19 years in various faculty and administrative roles before joining Vanderbilt in 2002 as the institution's first associate dean for diversity in medical education. He is credited with leading efforts that have substantially enhanced the diversity of students in the School of Medicine.
In addition, Hill has had a distinguished career in biomedical research and medical education/administration. He is widely recognized for his research in trypanosome biology and biochemistry. His major accomplishments and recognitions include election to the Institute of Medicine of the National Academies of Science and as a fellow of the American Association for the Advancement of Science. He served as a Fulbright Scholar at the University of Nairobi and as an NIH research fellow at the University of Cambridge in the United Kingdom. He has served as president of the National Foundation for Infectious Diseases and received the organization's Utz Leadership Award. Hill also is a past recipient of the Seymour Hunter Prize from the Society of Protozoologists.
Tadashi Inagami, professor of biochemistry, emeritus
Inagami, who came to Vanderbilt in 1966, currently serves as the Stanford Moore Professor of Biochemistry and as a professor of medicine. He is one of the most accomplished and acknowledged scientists in the field of cardiovascular research. He was the first person to purify renal and extrarenal renins; to determine the structure of extrarenal renin; and to clone atrial natriuretic peptide (ANF) and angiotensin II type 1 and 2 receptors and their variants. His current research focus is the prorenin receptor. This is a new research subject related to hypertension, diabetic nephropathy and cardiovascular research fields.
Inagami has trained more than 100 postdoctoral fellows and 12 graduate students. He has published more than 520 original papers and 147 review articles. He has been an invited speaker of numerous scientific societies and received a number of awards, including a Fulbright-Munds Fellowship, a Japan National Academy award, a Humboldt Society Visiting Professorship Award, a Belgian Foreign Ministry Research Award, the Ciba Award of the High Blood Pressure Research Council, the Distinguished Scientist Award of the American Heart Association and a MERIT Award from the National Heart, Lung and Blood Institute at the NIH. He has been the principal investigator for an NIH R01 grant for the last 40 years and the director of SCOR in the hypertension program of NHLBI for 20 years.
Gary F. Jensen, professor of sociology, emeritus
Jensen, professor of sociology and of religious studies, came to Vanderbilt in 1989. He led the Department of Sociology at Vanderbilt for 14 years, guiding substantial growth in the number and diversity of the department's faculty. For one of those years (2002-03), Jensen had the distinction of being chair of both Sociology and Political Science. Jensen's work encompasses careful critiques of core theories of deviance and delinquency; empirical research on policies and interventions in crime and delinquency; and even slightly quirky examinations of patterns in haunting and UFO sightings. He has published nearly 70 articles, essays and chapters, as well as several books. Of particular note is Delinquency and Youth Crime, co-authored with Dean Rojek, now in its fourth edition. For more than a decade, he worked on The Path of the Devil, his 2007 book on early modern witch hunts.
Jensen created an early service-learning course (Justice and Corrections); established a department computer lab for graduate students; served on the Faculty Senate and the Arts and Science Faculty Council; and taught Introductory Sociology by involving students in hands-on data analysis. He was honored by the Opportunity Development Center for his support of affirmative action and by the Margaret Cuninggim Women's Center for his contributions to the advancement of women at Vanderbilt. In 2001, he received the Thomas Jefferson Award for contributions to campus governance and in 2005 was named the Joe B. Wyatt Distinguished University Professor.
Laurence (Larry) E. Lancaster, professor of nursing, emeritus
Lancaster received a master of science in nursing and Ed.D. from Vanderbilt before joining the faculty in 1973 with a joint appointment as an instructor in medical-surgical nursing at the School of Nursing and as a clinical specialist in nephrology at Vanderbilt University Hospital. Since that time, he has served the School of Nursing in a variety of leadership positions, including director of the graduate adult health specialty and chair of the Department of Adult Health. In 1995, he was promoted to professor of nursing.
Lancaster's numerous awards include the Sarah K. Archer Award for Excellence in Teaching at the graduate level, which he received in 1992, 1995, 1997 and 1999; the Shirley Titus Award for Excellence in Teaching at the undergraduate level; the School of Nursing Award for Excellence in Teaching in the lecture and small-group setting; and the American Nephrology Nurses Association's National Award for Excellence in Education. In addition, he received the Ingeborg Mauksch Award for Excellence in Faculty Mentoring and the School of Nursing's Alumni Award for Excellence in Nursing. He was selected one of the Top 100 Leaders of the Past 100 Years during the School of Nursing Centennial Celebration in 2008.
Wallace M. LeStourgeon, professor of biological sciences, emeritus
LeStourgeon joined the Vanderbilt faculty in 1974 as an assistant professor in the Department of Molecular Biology. The focus of his research at Vanderbilt has been the molecular mechanisms of life processes. He was the first scientist to show that DNA and RNA binding proteins undergo quantitative changes during periods of known gene activity. In 1975, LeStourgeon developed the Developmental Biology course and updated the department's introductory course in Molecular Biology. He taught Biochemistry, Molecular Aspects of Disease, Cell Biology, Molecular Mechanisms of Environmental Toxins and a first-year writing seminar on environmental toxins. He developed and taught the research component of the Interdisciplinary Graduate Program course and lectured frequently in the didactic component.
LeStourgeon served as a freshman adviser, as an adviser to many biological sciences majors and on the thesis committees of numerous doctoral candidates. He mentored the doctoral research of seven students and the postdoctoral research of three scientists, who presently hold academic, government or private sector professional positions. He served on several departmental and university committees and as chair of the Environmental Affairs Committee for four years. He also aided local No Spray efforts by providing information on the toxicological consequences of pesticide spraying and was a frequent speaker concerning the scientific evidence underpinning evolution and global warming.
Clifton K. Meador, professor of medicine, emeritus
Meador received his M.D. from Vanderbilt School of Medicine in 1955, sharing the Founder's Medal for top scholastic honors with a classmate. He returned to Vanderbilt as a full-time faculty member in 1973 and started the Vanderbilt teaching program in medicine at Saint Thomas Hospital and served as chief medical officer of the hospital. In 1999, he was recruited to be the executive director of the Meharry Vanderbilt Alliance and served with distinction in that role until his retirement.
Meador's early research focused on Cushing's syndrome; his later work has focused on the art of practicing medicine. He is a prolific writer, authoring or co-authoring 11 books, among them A Little Book of Doctors' Rules, A Little Book of Nurses' Rules, Pearls from a Pediatric Practice, How to Raise Healthy and Happy Children, Med School, Symptoms of Unknown Origin: A Medical Odyssey, Puzzling Symptoms and Twentieth Century Men in Medicine.
Barbara O. Meyrick-Clarry, professor of pathology, microbiology and immunology, emerita
Meyrick-Clarry was recruited to Vanderbilt in 1981 as an associate professor of pathology and medicine. She was promoted to professor in 1985. She is an internationally recognized authority on the pathology of pulmonary diseases and has made seminal contributions to understanding the structure and function of the lung and its blood vessels and of the causes and consequences of primary idiopathic pulmonary hypertension. She is the author of more than 160 publications in major scientific journals.
Meyrick-Clarry also has devoted considerable time and energy in her work as director of program development in the Vanderbilt Office of Research, where she has assisted investigators putting together large multidisciplinary National Institutes of Health grants; mentored junior faculty colleagues early in their careers; and trained residents, research fellows, medical students and graduate students. She has served on many committees of the NIH, the Federation of American Societies for Experimental Biology and the American Thoracic Society, where she was chair of the Pulmonary Circulation Assembly from 1995 to 1997. She has been invited to speak about her scientific work at numerous leading universities and at major national and international meetings, and has served on the editorial boards of the leading scientific journals in her field.
Marvin J. Rosenblum, clinical professor of medicine, emeritus
(Oct. 17, 1922–Jan. 25, 2012)
Rosenblum graduated magna cum laude from Vanderbilt University in 1943. After graduating first in his medical school class at the University of Tennessee in 1947, he completed a residency in internal medicine at Vanderbilt. He held a fellowship in gastroenterology and completed a residency in hematology at the University of Pennsylvania in 1953 and 1954, respectively. In 1955, he opened his practice in internal medicine on the Vanderbilt campus and served on the faculty as an assistant and later an associate clinical professor of medicine.
Rosenblum's clinical practice partnership with the Department of Medicine helped train more than a generation of internal medicine physicians. He was a member of the American Medical Association, the American College of Physicians, the American College of Chest Physicians, the Nashville Academy of Medicine, the Tennessee Medical Society Association and the Nashville Society of Internal Medicine.
Judith H. Sweeney, associate professor of nursing, emerita
After receiving both bachelor's and master's degrees in nursing from Vanderbilt, Sweeney joined the School of Nursing faculty as an instructor in medical-surgical nursing in 1975. She rose to the rank of assistant professor of the practice of nursing in 1978 and to associate professor of nursing in 2001. She was appointed director for the first-year, pre-specialty bridge program in fall 1998 and was instrumental in designing curriculum changes that focused on a more integrated first-year program aligning students with their specialty areas while still focusing on the basic objectives of the core R.N. competencies.
Sweeney's exceptional presentation style earned her the Julia Hereford Award in 1995, 1999 and 2004; the Sarah Archer Award in 1998 and 2002; the Shirley Titus Award in 1987, 1994, 1997 and 2001; and the Dean's Award for Academic Endeavors in 2011. Her passion for teaching also extended to her strong belief in mentoring new faculty by establishing a "buddy" system whereby first-time faculty would be joined with more experienced faculty who served as guides and role models in the lab and clinical areas. In 2005, she was awarded the Ingeborg Mauksch Award for Excellence in Faculty Mentoring and was honored as one of the Top 100 Leaders of the Past 100 Years during the School of Nursing Centennial Celebration in 2008.