Chancellor urges Vanderbilt grads to embrace complexity
by
Jim Patterson
May. 11, 2012, 11:13 AM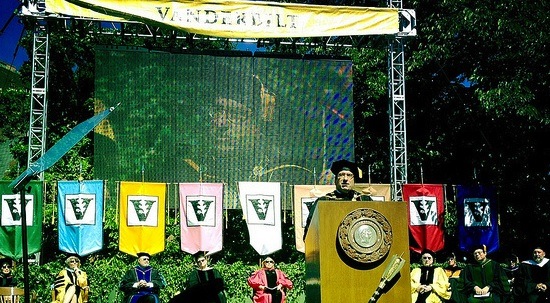 Watch video from Commencement 2012.
Embrace complexity, Chancellor Nicholas S. Zeppos told about 3,000 graduates who persevered through a national financial crisis and devastating Nashville floods during their tenure at Vanderbilt University.
"Challenge your assumptions, welcome disagreements and along with others make a mission of discovery and education," Zeppos advised in his May 11 Commencement address. "Be confident that the habits of mind you have practiced here … will help you face the future and all the unexpectedness it brings. … Living in this way you will make us all proud, and you will make this world a better place."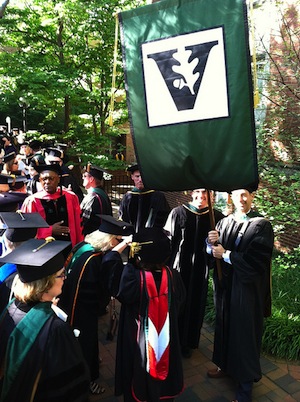 Degrees were awarded to 1,688 undergraduates and 2,052 graduate and professional students. The main ceremony was held on Alumni Lawn. Newsman Tom Brokaw spoke to graduating seniors and their guests on Senior Day May 10.
Zeppos extolled the students for their volunteer efforts in the Nashville community during the 2010 flood crisis and praised the university's navigation of the "financial storm" that gripped the country in 2008 just as the current graduates were arriving as freshmen. He noted that the Class of 2012 was the first to experience The Martha Rivers Ingram Commons– now an established living-learning community benefiting all first-year students. And seniors who lived in the 56-year-old Kissam Quad will be the last to have that experience; the dormitories will be demolished this summer and eventually replaced with new facilities.
"Some of you lived in Kissam and have now had the opportunity to kiss or kick the old place goodbye," Zeppos said.
The chancellor told graduates not to be cowed by the question many of them were hearing repeatedly: "What are you going to do next?"
"I want to encourage you to grasp fully the complexity of this experience, to recognize the happiness and the sadness, the liberation and the loss," he said.
Quoting Abraham Lincoln on uncertainty, Zeppos advised graduates that "the best thing about the future is that it comes one day at a time."