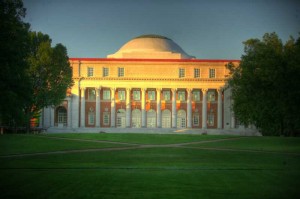 Fourteen students with a commitment to improving teaching in urban middle schools will be the first to graduate May 11 from a two-year master's program offered at Vanderbilt's Peabody College in partnership with Metropolitan Nashville Public Schools.
The Teaching and Learning in Urban Schools program was instituted in 2010, when Metro Schools Director Jesse Register approached Vanderbilt about developing the program, which has precisely focused goals for improving teaching effectiveness and student outcomes.
Students attend the program tuition free and agree to teach in Metro Schools for five years – two years while enrolled in the degree program and three years following graduation.
Open to recent college graduates as well as new and existing teachers, the program prepares students to teach in upper elementary grades with a focus on literacy, mathematics or science.
TLUS director Lanette Waddell, assistant professor of the practice of mathematics, says the most unique aspect of the program is the weekly coaching support offered to the graduate students by full-time Peabody faculty.
"Coaching gives both teachers and coaches focused time to reflect and reconsider practices and ideas," Waddell said. "The students receive informed and focused feedback on their teaching practices on a regular basis, and coaches are offered an opportunity to understand how educational theory translates or does not translate to the everyday work of teachers."
Jon Loudermilk, a member of the current graduating class, says the TLUS program is the best approach to achieving an advanced degree because of the time spent in the classroom.
"Your classroom functions partially as your laboratory," said Loudermilk, who will continue teaching in one of Nashville's hardest-to-staff middle schools. "[rquote]This arrangement also puts you shoulder-to-shoulder with other educators within your building who are facing many of the same challenges you are[/rquote]."
The Teaching and Learning in Urban Schools program currently serves three Metropolitan Nashville Public Schools, including Wright, Apollo and Bailey STEM Magnet middle schools. The program will soon expand to include Neely's Bend and Isaac Litton middle schools.
Peabody researchers will track the implementation and progress of the TLUS program in hopes of devising a model for other such partnerships.