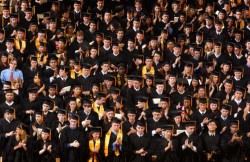 Chancellor Nicholas S. Zeppos will give the traditional address to Vanderbilt graduating students during Commencement ceremonies Friday, May 11, preceded by a speech from newsman Tom Brokaw, who will appear Thursday, May 10, during Senior Day.
Senior Day will be held at 11 a.m. in Memorial Gym where Brokaw will also receive the university's prestigious Nichols-Chancellor's Medal, one of the university's highest honors, which includes a cash prize, and is given to individuals who define the 21st century and exemplify the best qualities of the human spirit. It was created and endowed by Vanderbilt Law School graduate Ed Nichols and his wife, Janice, in honor of Edward Carmack and Lucile Hamby Nichols.
Commencement ceremonies will begin at 9 a.m. on Friday on Alumni Lawn. Undergraduates will receive their degrees after the chancellor's address, while graduate and professional students will adjourn for their own degree ceremonies at about 10:15 a.m. About 3,000 graduates are expected to attend Commencement. Degrees are scheduled to be awarded to 1,688 undergraduates and 2,052 graduate students. Undergraduates will stay on Alumni Lawn to receive their degrees. The ceremony on Alumni Lawn will be webcast live starting at 9 a.m. at http://www.vanderbilt.edu. A mult box will be available stage right.
Senior Day, Thursday, May 10 – Memorial Gym:
Broadcast/Photography Media: A riser for broadcast media and print photographers will be located stage left about 70 to 75 feet from the stage. An audio mult box will be located at the riser.
Media Parking: Media may park in Lot 64 located on 25th Avenue North on the side of Memorial Gym closest to Hawkins Field/Vanderbilt baseball stadium. Note: Media parking is first come, first served and there will be increased traffic in the area. Please plan accordingly. Media attending should be prepared to show valid media identification/press passes to access parking.
Commencement, Friday, May 11 – Alumni Lawn:
In case of severe weather, the event will be moved to Memorial Gym on 25th Avenue South. For more commencement information, go to www.vanderbilt.edu/commencement.
Media Parking: A limited number of parking spaces for print and television photographers will be available in Lot 1A at Vanderbilt Place and West Side Row (Directions – At 24th Avenue South, turn left onto Vanderbilt Place and it will dead end into the Sarratt Student Center. Then turn left onto West Side Row.) Reporters can park in Kensington Garage on 25th Avenue South. The garage is next to Memorial Gym. *** Media attending should be prepared to show valid media identification/press passes to access parking.