Media Inquiries
Latest Stories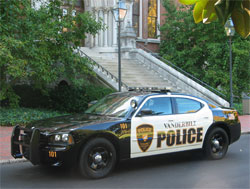 Vanderbilt University Police Department is seeking feedback from the community members they serve as they pursue re-accreditation from the Commission on Accreditation for Law Enforcement Agencies, Inc. (CALEA), whose programs are open to law enforcement agencies around the world.
To offer feedback, click here.
VUPD first earned the accreditation from CALEA in 2009. One of Tennessee's larger law enforcement agencies, VUPD provides comprehensive law enforcement and security services to all components of the university including the academic campus, medical center and a variety of university-owned facilities throughout the Davidson County area, including Vanderbilt Health One Hundred Oaks.
Since the first CALEA Accreditation Award was granted in 1984, the program has become the primary method for an agency to voluntarily demonstrate its commitment to excellence in law enforcement.
Agencies that can seek CALEA law enforcement accreditation include those at the state/provincial, county/parish, municipal and federal levels. The list of accredited agencies in Tennessee includes the Metropolitan Nashville Police Department, Shelby County Sheriff's Office, Tennessee Bureau of Investigation, Tennessee Department of Safety and Homeland Security, Nashville Airport Authority's Department of Public Safety, the Tennessee Valley Authority Police and the only other accredited university – the University of Tennessee, Knoxville.
CALEA was created in 1979 as a credentialing authority through the joint efforts of law enforcement's major executive associations – the International Association of Chiefs of Police, National Organization of Black Law Enforcement Executives, National Sheriffs' Association and the Police Executive Research Forum.