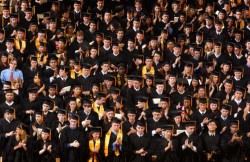 Five Vanderbilt University standout graduating seniors are available to speak with reporters covering May 11 Commencement ceremonies at Vanderbilt University.
Commencement begins 9 a.m. May 11 on Alumni Lawn. Senior Day, featuring an address by newsman Tom Brokaw, precedes it at 11 a.m. to noon on May 10.
Contact Vanderbilt News and Communications for an interview with one or more of the following students:
Trevor Burbank created a social enterprise business called Teach Twice (http://www.teachtwice.org). The company publishes children's books from around the world, and funnels the money the books generate back into the countries where the books began, providing scholarships and building schools. The first book – from a storyteller in Uganda – has been published. It's called My Precious Name. Burbank plans to continue this as his career after graduation. Teach Twice started as a class project. Burbank is a double major, in human and organizational development and child studies.
Nate Marshall, from the projects in Chicago, fell in love with poetry and rap at a young age and a teacher encouraged him to join the Louder Than a Bomb poetry slam.  He is now one of the main characters of the critically acclaimed documentary Louder Than a Bomb. He is a double major in English and African American Studies. You can see a video produced about Nate here: http://news.vanderbilt.edu/2012/03/louder-bomb_natemarshall/
Ethel Mickey has studied how women's romantic relationships affect their persistence in pursuing a college education. She was part of a student-run committee at Vanderbilt that brought Arianna Huffington, William Kristol, Tim Pawlenty and Christina Romer to the Vanderbilt campus to speak. The double major in English and sociology will graduate summa cum laude and is headed to Northeastern University in Boston to study sociology.
Scott Nill is a senior mechanical engineering major from Fort Wayne, Ind., and an undergraduate research assistant in the Medical and Electromechanical Design Lab, which works to advance the science of robotics, mechatronics and medical engineering and apply their results to real-world medical (usually surgical) problems. Scott is also an undergraduate research assistant in the Vanderbilt Initiative in Surgery and Engineering (VISE) and has been involved with Vanderbilt Motorsports' Formula SAE team since freshman year. After graduation, he may do an internship with the Walt Disney Company as an Imagineer, and has been accepted for graduate study at M.I.T.
Jeremy Williams is a double major – in religious studies and economics. He has been accepted to Yale Divinity School, but plans to defer admission for a year in order to preach in his hometown of Huntsville, Ala., and work on a book of devotionals. He's been involved in student government and the Black Student Alliance.
To schedule an interview with Mickey, Nill, Williams, Burbank or Marshall, contact Vanderbilt News and Communications at (615) 322-NEWS.