Media Inquiries
Latest Stories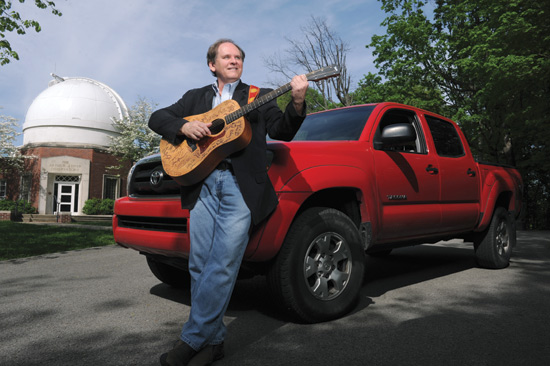 Around the time Rocky Alvey turned 52, he decided he was going to write one song per week for a year.
So he did. Mostly in his truck.
Commuting usually isn't the most rewarding part of anyone's day, but Alvey's journey between home and Vanderbilt Dyer Observatory, where he serves as director, has proven to be downright inspirational.
"It's like I get far enough away from the house on the way to work that my mind kind of starts drifting, and it's almost always at this one little stretch of Berry's Chapel Road that all of a sudden, there's a song," Alvey said. "By the time I get down the road a couple, three miles, I will have scribbled all the lyrics on a Sonic sack, or I have my iPhone there and I sing a little melody into that."
Alvey was writing songs long before he set his yearlong goal for himself. In 2008 he put out a folk album called Blackberry Jam and Other Fresh Ingredients, which appeared on the Billboard Americana charts "for the briefest of times," he said, though listeners from around the world continue to download it.
This fall, he will release The Mighty Sky, an album he wrote with songwriters Beth Nielsen Chapman and Annie Roboff, which they previewed at the United Nations' celebration of the International Day of Manned Space Flight on April 12. The Mighty Sky explores science and astronomy through music – some very fun music, in fact. The album includes a genre-busting collection of blues, rock, zydeco and folk, and even a zippy, trippy number about the scientific method that wouldn't sound out-of-place on the soundtrack for a Monty Python film.
The lyrics from the album's title track came from a poem Alvey wrote in 1985, inspired by childhood nights whiled away beneath the stars on a hillside near his family's farm in Southern Illinois. "[rquote]Knowing that I was looking into infinity just scared me," he remembers. "I didn't understand gravity and I thought, what if it gives out?"[/rquote]
Neither songwriting nor astronomy was part of the plan when Alvey moved to Nashville 22 years ago to take a construction job. He had no formal astronomy training but was one of the amateur stargazers who volunteered at Dyer to install the Bergquist telescope in 1999. A year later, he became Dyer's superintendent and now serves as its director.
Last year Alvey released an iPhone app called AstroCantus – the name means "star song" in Latin – that literally plays the music of the stars. Every type of star in the sky is assigned a musical value, which the app plays as each star passes overhead in real time, to haunting effect. The software will soon power a large wind chime-like installation at Dyer.
"It was a labor of love," Alvey said of these projects, "finding a way to combine my love of the sky with sound and music."
---