Senior Nate Marshall's passion for poetry helped him find his voice – and his calling
Nate Marshall is all about the words. He started writing poetry in grammar school, and in the eighth grade, when a poem he wrote got him detention, Marshall realized two things: His words could have an impact, and he'd have to be responsible with that power.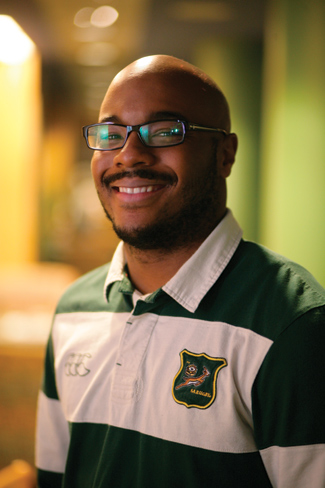 When he came to Vanderbilt four years ago, Marshall was already an accomplished spoken word artist. Now he is contemplating the next step in his evolution as an artist who brings the power of poetry to the people through his writing, performing and teaching.
Marshall grew up in a tough part of Chicago. It was there that he was set on his poetic path by a grandmother who encouraged his love of reading, a mother who saved up to send him to academic summer camps, and an English teacher who coerced him into joining the school's poetry slam team for a teen poetry competition called Louder Than a Bomb.
"I was 13 years old, and I didn't want to do it," Marshall said. "But she signed me up and threatened my grade if I didn't show up, so I showed up. And the rest is history."
Marshall embraced the work of being a poet. Writing helped him to deal with the process of maturing into a man, and he incorporated the rhythms and themes of hip-hop and the emotions of adolescence into his poems. "I'm a big bad gangsta cool kid who writes about his feelings … A geek who has a rapper's style," he wrote in "Look," a poem he performed for his sixth and final Louder Than a Bomb competition in 2008.
That contest and the months leading up to it were chronicled in the acclaimed documentary Louder Than a Bomb. In the film, directors Greg Jacobs and Jon Siskel follow four teams, including Marshall's. Viewers get to know him and his family, as well as his poetry, as he prepares for and competes in the event.
Marshall had found his voice and his passion, and as he wrapped up his final Louder Than a Bomb performances, he sought a college where he could continue to develop them. At first, Vanderbilt wasn't even on his radar, but a good friend's parents were alums and brought him for a campus visit.
"Vanderbilt was the right fit," Marshall said. "I thought that this place could provide me the things I wanted from a college experience." A conversation with the president of the Vanderbilt Spoken Word group sealed the deal.
Although his grandmother advised him not to major in poetry for fear he'd be a starving artist, Marshall had no such qualms and majored in English and African American and diaspora studies. "I'm good at stuff I'm interested in," he said, "and that's what I was interested in."
It turned out that he was quite good at them and continued to grow and evolve. "Over the course of his first three years at Vanderbilt, Nate emerged as a poet on the page," said Alice Randall, writer in residence at Vanderbilt and one of Marshall's mentors. "For many students this would be accomplishment enough, but not for Nate. He then began to explore writing fiction."
"Nate has learned to take intellectual risks," said Associate Professor of African American and Diaspora Studies Tiffany Patterson, who met Marshall during his first semester at Vanderbilt. "He actively seeks knowledge of the world and of himself."
As it has been since he was 13, Marshall seeks that knowledge through poetry that grows from and responds to his relationships with other people.
"[lquote]What I'm interested in is how I can write poems that impact a lot of people," he said.  "Part of it is creating literature that people can respond to, that speaks to them and their experience. It's also about the work of actually putting it in those folks' hands."[/lquote]
That involves not only finding innovative ways of producing and marketing poetry, but also teaching others to write poems themselves. "Nate is a born educator," said Centennial Professor of English Mark Jarman, another mentor. During his years at Vanderbilt, Marshall has spent breaks working with Louder Than a Bomb students in Chicago and teaching in South Africa during his study abroad experience.
What's next for Nate Marshall – poet, seeker of knowledge, teacher and graduating senior? He was recently awarded a prestigious Fulbright English teaching assistantship in South Africa but made the tough decision to turn it down in favor of entering the master of fine arts in creative writing program at the University of Michigan. Before that, however, he'll perform at the Sanaa Africa festival in Johannesburg later this month, taking his way with words to a worldwide audience.
"Poetry is a community-building tool," said Marshall, "and people are impacted by that. So much of our world is afflicted with not being able to sit and talk to each other and know each other's stories. This is vital work."
Watch a VUCast feature story about Nate Marshall.
written by Donna B. Smith