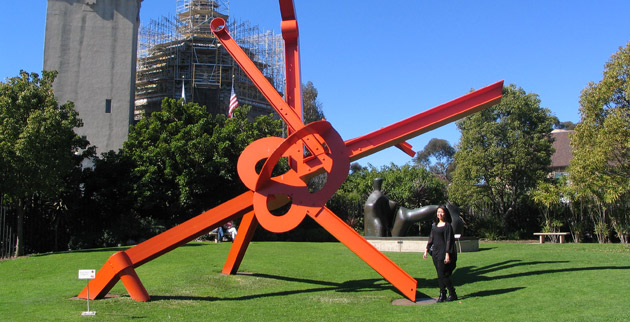 Vanderbilt University has acquired a signature piece of art created by renowned American sculptor Mark di Suvero. The piece, Tumbleweed, was installed April 30 on the lawn between the Student Life Center and the E. Bronson Ingram Studio Arts building at the corner of 25th and Garland avenues.
Funding for the piece comes from a private donation to the university in 1981to endow a fund to specifically support campus beautification. The goal of placing a sculpture in this area was identified as a part of the university's land-use plan of 2000. The high visibility to the community and in the life of the campus made this location a priority in terms of allocating funds generated by this grounds endowment.
"We seek to educate our students both inside and outside the classroom and this piece will be an excellent and inspiring teaching tool," said Richard McCarty, provost and vice chancellor for academic affairs. "Also, by placing this signature piece of public art along a prominent corridor on our campus we will accentuate the growing presence of the Studio Arts building in Nashville's arts scene."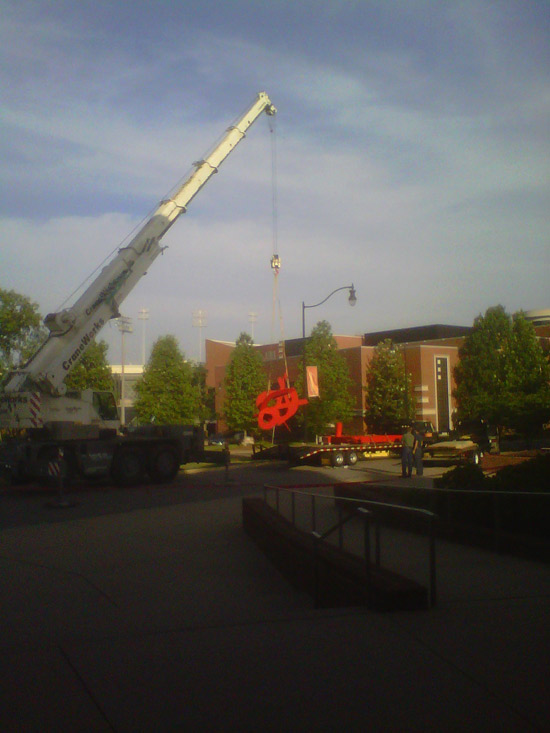 Mel Ziegler, professor and chair of the studio arts department, recommended the piece to the Vanderbilt University Art Acquisitions Committee, of which he is a member.
Other members are Marilyn Murphy, professor of art and chair of the committee; Jenny Lewis, program director for Medical Center Arts; Joseph Mella, museum director for the Cohen Fine Arts Gallery, and Judson Newbern, deputy vice chancellor for facilities and environment.
The committee unanimously approved Ziegler's recommendation and presented their proposal to university leadership for final approval.
According to Sculpture Magazine, di Suvero emerged as a young superstar in the 1960s, known for monumental assemblages that incorporated salvaged steel implements and wood, as well as for wood and wax hands that paid homage to Rodin. In 1975, he was the first living artist to have his work shown at the Tuileries Gardens in Paris, when he also exhibited at the Whitney Museum and in outdoor settings around the New York metropolitan area. He is also the first artist to have three major exhibitions at the Storm King Art Center, the 500-acre sculpture park in New York's Hudson Valley.
His works are part of public collections and installations around the country and the world, including those at The Museum of Modern Art and the Whitney Museum of American Art in New York, the Hirschorn Museum and Sculpture Garden at the Smithsonian Institution in Washington, D.C., The Kröller-Müller Museum in Otterlo, The Netherlands, and the Skulpturenpark in Cologne, Germany.