Media Inquiries
Latest Stories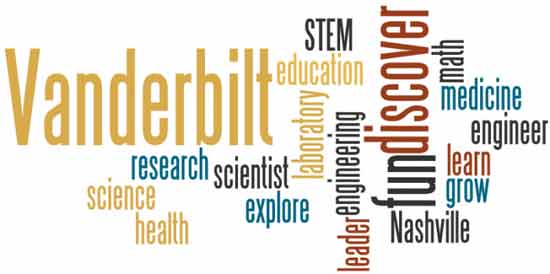 A group of Vanderbilt students, faculty and staff will share their research and passion for science and technology with middle and high school students at the nation's largest science fair April 27-29 in Washington, D.C.
The second annual USA Science & Engineering Festival and Book Fair, held at the Walter E. Washington Convention Center, showcases more than 3,000 hands-on science and engineering activities, more than 100 stage shows, discussions by featured authors, appearances by "science celebrities" and more over the course of three days.
"This expo provides a fantastic opportunity to engage and energize middle and high school students in the process of discovery," Dennis Hall, vice provost for research and dean of the Graduate School, said. "We are thrilled to be part of an event promoting interest in science, technology, engineering and math and look forward to meeting the nation's future engineers and scientists."
The Vanderbilt booths include:
Something Big from Something Small: Vanderbilt Institute of Nanoscale Science and Engineering, supported by the Vanderbilt Student Volunteers for Science, where visitors will experience hands-on demonstrations with nanomaterials such as ferrofluid, aerogel, shear-thickening fluids and quantum dots;
Vanderbilt Engineering is Personal: The School of Engineering, which features a sampling of the School of Engineering's expertise including a mobile app that simulates guidance of a robotic capsule through the GI track, to robots that perform surgery, to a rocket designed and built by students;
What do Seabirds Eat? The Center for Science Outreach, where students will discover exactly what seabirds are eating, how plastics are classified, and what they can do to keep the oceans clean; and
Blood Work, a discussion by Professor of French Holly Tucker of her book Blood Work: A Tale of Medicine & Murder in the Scientific Revolution (Norton, March 2011) at the festival book fair.
The Office of Undergraduate Admissions will also have a booth at the festival's college fair.
According to the festival's website, the USA Science & Engineering Festival is the country's only national science festival. It was developed to increase public awareness of the importance of science and to encourage youth to pursue careers in science and engineering by celebrating science in much the same way as we celebrate Hollywood celebrities, professional athletes and pop stars. The festival is a grassroots collaboration of more than 500 of the United States leading science and engineering organizations.
Visit the Vanderbilt Expo website to learn more about the Vanderbilt Expo booths and presentations.