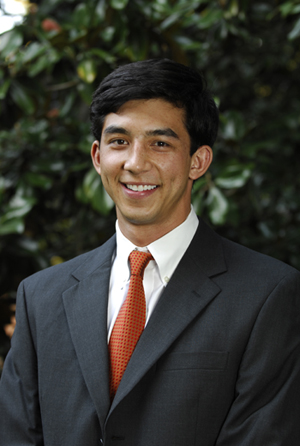 Two business leaders in the field of private equity investment, a marketing executive and a graduating Ingram scholar are the newest members of the Vanderbilt University Board of Trust.
During its April 20 meeting, the board elected Charles H. Esserman and Jon A. Winkelried to five-year terms. Chandler Anthony, the 2012 Young Alumni Trustee, and John J. Hindle, the new Alumni Trustee, will serve four-year terms. In addition, the board approved members J. Hicks Lanier and Cal Turner Jr. as emeriti trustees.
Esserman, of Orinda, Calif., is the managing director, president, chief executive officer and co-founder of TSG Consumer Partners, one of the oldest consumer-focused equity funds in the United States. Previously, Esserman was with Bain & Company, a management consulting firm.
At Vanderbilt, Esserman is a member of the Technology Transfer and Enterprise Development Advisory Committee. He and his wife, Ivette C. Esserman, serve on the Parents Leadership Committee.
Esserman graduated with top honors from the Massachusetts Institute of Technology, where he earned a bachelor's degree in electrical engineering and computer science. He earned a master's of business administration from Stanford University, where he was an Arjay Miller Scholar. He serves on the Hoover Institution's Board of Overseers and the Stanford Graduate School of Business Advisory Council.
Winkelried, of Short Hills, N.J., was employed by the Goldman Sachs Group for more than 28 years when he retired in 2009 as president and co-chief operating officer. He is an adviser to TPG Capital, one the world's largest private equity firms, and raises competitive ranch and roping horses at his Colorado ranch.
Winkelried earned his undergraduate and master's of business administration degrees at the University of Chicago, where he is a trustee. At Vanderbilt, Winkelried is a member of the Technology Transfer and Enterprise Development Advisory Committee. He and his wife, Abby Winkelried, are on the Parents Leadership Committee and serve as the Vanderbilt Parents Campaign co-chairs for 2011-2012.
Hindle, the current president of the Vanderbilt Alumni Association, is a marketing executive with Accenture in London, England. He also helped establish the Peabody College undergraduate internship program in London and has taught as an adjunct faculty member in Human and Organizational Development.
Hindle earned his bachelor's degree in English and fine arts in Vanderbilt's College of Arts and Science. He worked at Peabody as director of the Office of Faculty Services and later as director of development before accepting a marketing position with Northern Telecom.
Increasing Vanderbilt alumni visibility throughout the world has been a priority for Hindle. In 2002, he started the Greater London Vanderbilt Club, the first Vanderbilt alumni chapter outside of the United States. As alumni association president, Hindle has overseen the restructuring of its board and implementation of a new governance model. Hindle holds dual citizenship in the United States and the United Kingdom. He and his wife, Joan Hindle, reside in London as well as Nashville, Tenn.
Anthony, of Ridgeland, Miss., is majoring in economics with a double minor in corporate strategy and financial economics. He plans to join Bain & Company in Dallas, Texas, after graduation as a management consultant.
As an Ingram scholar, Anthony is spending his final semester through an independent study developing a rehabilitation home for Kenyan street boys. At Vanderbilt he has helped coordinate 31 Manna Project International spring break trips. He also led mission trips to Honduras and organized legislative initiatives for the Juvenile Diabetes Research Foundation.
Anthony helped raise more than $30,000 for the Fannie Battle Day Home while serving as philanthropy chair for the Vanderbilt chapter of Sigma Alpha Epsilon fraternity. His future plans include pursuing a career in economic development through social enterprises in East Africa and Latin America.
Lanier and Turner will assume emeriti status July 1. Lanier, of Atlanta, Ga., serves as chairman and chief executive officer of Oxford Industries. He earned his bachelor's degree from Vanderbilt's College of Arts and Science and a master's of business administration degree from Harvard University. Lanier has served on the Board of Trust for 15 years.
Turner, of Franklin, Tenn., graduated cum laude from Vanderbilt's College of Arts and Science. The former president and chairman of Dollar General Corp. is a Vanderbilt Distinguished Alumnus. He has served on the Board of Trust for 17 years and endowed the Cal Turner Program for Moral Leadership in the Professions in the name of his father.
-VU-