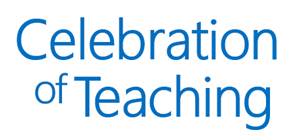 The Center for Teaching, in conjunction with the Graduate School, will host a celebration to mark the conclusion of another exciting year of teaching and learning at Vanderbilt.
The 2012 graduates of the Center for Teaching's Teaching Certificate program will be honored Wednesday, May 2, from 4 to 5:30 p.m. at the Center for Teaching, 1114 19th Ave. S. All are invited to attend.
The celebration includes remarks by:
Richard McCarty, provost and vice chancellor for academic affairs
Dennis Hall, vice provost for research and dean of the Graduate School
John Sloop, senior associate dean for faculty, College of Arts and Science
Emily Nacol, political science, junior faculty teaching fellow
Jessica Riviere, German, teaching certificate recipient
We'll celebrate 2011-12 highlights and achievements of the Vanderbilt teaching community, including:
Participants in the CFT's Junior Faculty Teaching Fellows program
Recipients of the Teaching Certificate program
Graduate teaching Fellows
Teaching affiliates
Panelists featured at this year's CFT events
Teaching as research fellows
CFT advisory board
CFT's campus partners
Faculty who have received awards for their teaching accomplishments.
A reception will follow. RSVP to the Celebration of Teaching by May 1.
Contact: Derek Bruff
derek.bruff@Vanderbilt.Edu