April 23 Blair Nightcap Series concert POSTPONED until May 2
Apr. 20, 2012, 4:13 PM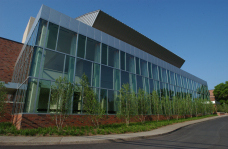 The Blair Nightcap Series concert originally scheduled for Monday, April 23, has been postponed. It will now be performed at 8 p.m. Wednesday, May 2, in the Steve and Judy Turner Recital Hall at Vanderbilt's Blair School of Music.
The program will remain the same – there will be an 8 p.m. pre-concert talk conducted by Blair senior Christopher Anderson, a musical arts major, followed by two 21st-century horn trios. Violinist Carolyn Huebl, horn player Leslie Norton and pianist Melissa Rose will perform "Etudes and Parodies" by Paul Lansky and Trio for Horn, Violin and Piano by Gerard Schwarz.
The concert is sponsored by Nissan Americas and will be recorded live for later broadcast on WNPT-2 television and Vanderbilt's VUCast. Admission is free and open to the public.
Contact: Kristin Whittlesey, (615) 322-7656
kristin.whittlesey@vanderbilt.edu