Stahl named recipient of prestigious Hamblet art award
Apr. 17, 2012, 4:15 PM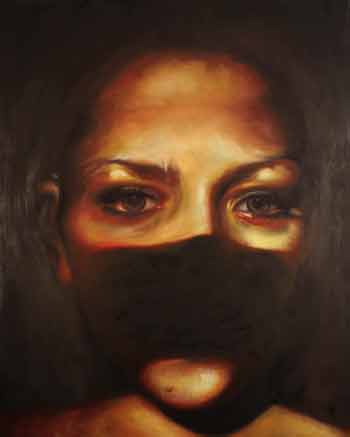 Vanderbilt's Department of Art has announced this year's recipient of the prestigious Margaret Stonewall Wooldridge Hamblet Award. Hannah Stahl, the daughter of Mary Jane Sorentino and Jim Stahl of Providence, R.I., will receive a $25,000 prize, allowing her a year of art research and travel culminating in a solo show at Vanderbilt in one year.
Stahl's paintings were selected for the award following a juried competition, involving exhibition, interviews and written proposals.
The $10,000 Merit Award was presented to Yeon-Sil Yi of Daegu, South Korea.
Stahl's and Yi's art can be viewed as part of the 2012 Senior Show now on display in Space 204, the second-floor gallery of the Department of Art. The exhibition includes a diverse approach to art making from the 13 graduating studio art majors.
Other students exhibiting include Rosina Andrews, Grace Burnworth, Xi Chen, Stephanie Falcone, Kathryn Jaramillo, Lauren Jopling, Wei Kong, Patrick Louis, Katherine Manire, Ricky Don Taylor Jr. and Lucia Alvarez Zeevaert.
"These students have made tremendous strides in the quality and depth of their work this year. This senior exhibition includes paintings, drawings, ceramics, installations and performances by a hard-working group of students," said Mel Ziegler, chair of the Department of Art.
Senior Show 2012 is on display from 9 a.m. to 4 p.m. Monday-Friday and from noon to 4 p.m. Saturday and Sunday until May 11. The gallery is located in the E. Bronson Ingram Studio Art Center at 25th and Garland avenues on the Vanderbilt campus.
The Department of Art has supervised the awarding of the Margaret Stonewall Wooldridge Hamblet Award since 1984. The award was established by Clement H. Hamblet in honor of his wife, whom he met while she was studying abroad. The Hamblet Award is meant to provide the means for travel and independent art activity for one year, culminating in an exhibition at Vanderbilt.
Jurors selected to serve for the competition are distinguished artists and educators. Jurors this year included Thomas Roma, director and professor in the photography department at Columbia University in New York and twice a recipient of a Guggenheim Fellowship; Pat Bellan-Gillen, the Dorothy L. Stubnitz Professor of Art at Carnegie Mellon University in Pittsburgh, Pa.; and Greg Shelnutt, chair and professor in the Department of Art at Clemson University in South Carolina.
For more information, contact the Department of Art at (615) 343-7241 or visit its website.
Contact: Diane Acree, (615) 343-7241
diane.acree@vanderbilt.edu