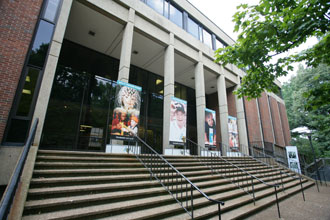 April is Autism Awareness Month, and the Vanderbilt Kennedy Center's Treatment and Research Institute for Autism Spectrum Disorders is teaming with the Tennessee Department of Education to offer free, half-day workshops across the state for families of children with autism.
Designed to offer high-quality information and support, these workshops were created in response to a recent report from the Centers for Disease Control and Prevention that the prevalence of children with autism has increased, with new data suggesting one in 88 children has an Autism Spectrum Disorder (ASD).
The workshops combine lecture, small-group discussion and materials and focus on identifying ASD characteristics and how they affect daily activities and interactions with others. Participants will become familiar with evidence-based intervention strategies to address the unique needs of children with ASD and will develop a plan to integrate these strategies into daily routines to promote functional communication, social skills and play and to decrease challenging behaviors.
Following are the regional workshops for families of children with autism. Specific workshop locations will be sent to accepted registrants.
East Tennessee: Tuesday, May 8, 11 a.m. – 3 p.m.
Middle Tennessee: Friday, May 11, 9 a.m. – 1 p.m.
West Tennessee: Tuesday, May 15, 9 a.m. – 1 p.m.
The workshops are open to family members only with a maximum of two attendees per family. To apply, email the registrant's name, relationship to child with ASD, email address, child's school system and phone number to linda.copas@tn.gov or fax the information to (615) 532-9412.
The application deadline is Tuesday, April 24.