Media Inquiries
Latest Stories
Members of the Vanderbilt men's basketball team and athletics staff posed with Sen. Thelma Harper after being honored by the Tennessee State Legislature April 9. Pictured (l-r): Assistant Athletic Communications Director Andy Boggs; Assistant Director of Operations Dan Cage; Harper; Assistant Coach Brad Frederick; senior Aaron Noll; senior Lance Goulbourne; senior Brad Tinsley (holding plaque); senior Jeffery Taylor; senior Festus Ezeli; Assistant Coach Dan Muller; Assistant Coach Tom Richardson; Senior Manager Will Hulings (foreground, black and gold tie); and senior Jordan Smart. (John Russell/Vanderbilt University)
Speaker of the House Beth Harwell introduced a joint resolution in the Tennessee General Assembly to congratulate head basketball coach Kevin Stallings and the Vanderbilt Commodores on winning the 2012 Southeastern Conference Men's Basketball Tournament Championship. The honor was officially presented at the state capitol building on April 9.
"The Tennessee General Assembly is pleased to specially honor and commend those extraordinary athletic teams that, through their magnificent exploits, bring honor to Tennessee and serve as exceptional ambassadors of this state," the resolution said. "The Vanderbilt University men's basketball team is one such estimable team that achieved an extraordinary level of success during the 2011-12 season and captured the SEC Tournament Championship for the second time in school history."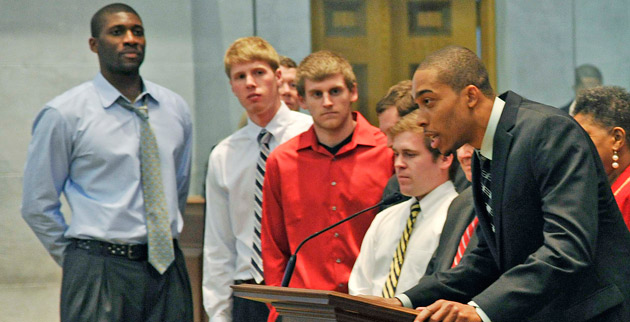 The resolution also recognized Coach Kevin Stallings and individual players for their accomplishments.
"The basketball players at Vanderbilt University epitomize all that is good in today's student-athlete, as they have achieved a premier level of success in competition and academics. The perseverance, determination, work ethic and talent of this group of young men not only made possible a championship basketball season, but also surely bode well for their success in every future enterprise … both on and off the basketball court."
The Vanderbilt delegates were presented with a framed copy of the resolution and posed for pictures with members of the legislature, including Sen. Thelma Harper and Sen. Douglas Henry.
Contact: Andy Boggs, (615) 322-4121
andy.boggs@vanderbilt.edu