Senior art show opens April 13 with reception, awards
Apr. 6, 2012, 9:15 AM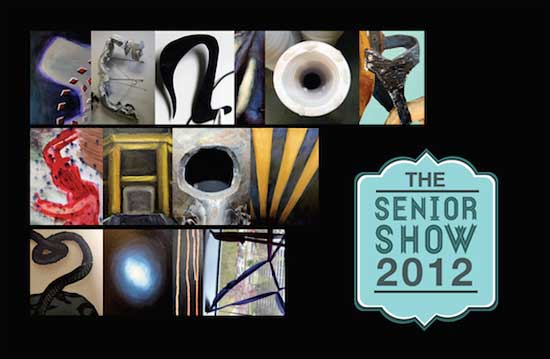 The massive doors between the galleries of Space 204 will slide back on Friday, April 13, revealing the hard work of Vanderbilt's graduating studio art majors.
Senior Show 2012 will be on display to the public from April 13 to May 11 in Space 204, the second-floor gallery in the E. Bronson Ingram Studio Art Center, located at 25th and Garland avenues on the Vanderbilt campus.
A public reception also will be held in the second-floor rotunda from 4 to 6 p.m. April 13, with student awards announced at 5 p.m. Awards include the prestigious Margaret Stonewall Wooldridge Hamblet Award*, the Allan P. DeLoach Award for Photography and the Mid-South Ceramics and Plaza Artist Materials awards.
The Margaret Stonewall Wooldridge Hamblet Award is presented each year in conjunction with the senior exhibition. The Department of Art has supervised the awarding of the Hamblet Award since 1984.
The award was established by Clement H. Hamblet in honor of his wife, whom he met while she was studying abroad. The Hamblet Award is meant to provide the means for travel and independent art activity to a graduating senior for one year, culminating in an exhibition at Vanderbilt post-graduation.
The 13 participating seniors are: Rosina Andrews, Grace Burnworth, Xi Chen, Stephanie Falcone, Kathryn Jaramillo, Lauren Jopling, Wei Kong, Patrick Louis, Katherine Manire, Hannah Stahl, Ricky Don Taylor Jr., Yeon-Sil Yi and Lucia Alvarez Zeevaert.
"These students have made tremendous strides in the quality and depth of their work this year," said Mel Ziegler, chair of the Department of Art. "This senior exhibition includes paintings, drawings, ceramics, installations and performances by a hard-working group of students."
In conjunction with the Senior Show opening, artwork completed during the spring semester by all Vanderbilt studio art students will be on display throughout the art building during the department's Spring Open House from noon to 6 p.m. Friday, April 13.
All Space 204 events are free and open to the public. Gallery hours are 10 a.m.-4 p.m. Monday-Friday, with special Saturday and Sunday hours from noon to 4 p.m. for the duration of the Senior Show exhibition.
For more information, contact the Department of Art at (615) 343-7241.
Contact: Diane Acree, (615) 343-7241
diane.acree@vanderbilt.edu
*A sincere thanks to the Hamblet family for their generous gift and support of our students and department, and for the extended experiences this gift provides.