Media Inquiries
Latest Stories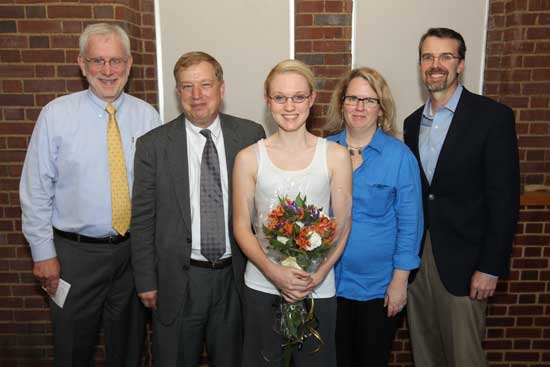 Several Vanderbilt students have received national recognition from the Truman, Goldwater and Udall scholarship foundations for their potential to become leaders and visionaries in the science, government and environmental fields, the Office of Honor Scholarships has announced.
Emma Steigerwald, a member of the Class of 2013, has been named a 2012 Truman Scholar. She is one of the 54 Truman Scholars selected nationwide from among 587 candidates nominated by their respective colleges and universities. As a Truman Scholar, Steigerwald will receive up to $30,000 for graduate study as well as priority admission and supplemental financial aid at some premier graduate institutions; leadership training; career and graduate school counseling; and special internship opportunities within the federal government.
Steigerwald studies molecular and cellular biology as a Cornelius Vanderbilt Honors Scholar. Internships in wildlife rehabilitation, speciation genetics and population ecology inspired her dedication to species conservation.
The mission of the Truman Foundation is to recognize college juniors with exceptional leadership potential who are committed to careers in government, the nonprofit or advocacy sectors, education or elsewhere in public service and provide them with financial support for graduate study, leadership training and fellowship with other students who are committed to making a difference through public service.
The rigorous selection process requires that candidates have a strong record of public service as well as a policy proposal that addresses a particular issue in society. Firmly rooted in President Truman's belief that education promotes the general welfare of our country, the Truman Scholarship remains committed to encouraging future "change-agents" of America. Many of those chosen as scholars go on to serve in public office, as public defenders, leaders of nonprofit organizations and as educators.
Steigerwald plans to earn a Ph.D./D.V.M. in population genetics, focusing on genetics-based evolution and ecology, wildlife and population health, and avian medicine. She has conducted population ecology fieldwork at the Mediterranean Institute for Advanced Studies in Spain and works in the Ecology and Evolution lab at Vanderbilt under the direction of Daniel Funk, assistant professor of biological sciences. She serves as a teaching assistant in the Intro Biology lab and is active in the Alternative Energy Club, Students Promoting Environmental Awareness and Recycling (SPEAR) and started Vanderbilt's first vermiculture program.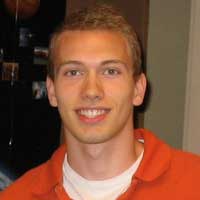 Curtis Northcutt, a member of the Class of 2013, has been named a 2012 Goldwater Scholar. Each year, Vanderbilt is given the opportunity to nominate up to four outstanding sophomore and junior students in the math, science and engineering fields. Competition for the award is fierce: 282 scholars were selected on the basis of academic merit this year from a field of 1,123 students.
The Goldwater Foundation is a federally endowed agency established by Public Law 99-661 on Nov. 14, 1986. The scholarship program, which honors the late Sen. Barry M. Goldwater, was designed to foster and encourage outstanding students to pursue careers in the fields of mathematics, the natural sciences and engineering. Each scholarship provides up to $7,500 for the scholar's junior or senior year. The Goldwater Scholarship is the premier undergraduate award of its type in these fields.
Northcutt plans to earn a Ph.D. in computer science and hopes to develop theoretical, mathematical and algorithmic approaches to computer science and teach as a professor at a university. He has held undergraduate research positions at NASA, General Electric and the universities of Notre Dame and Kentucky. In 2011, Northcutt was selected by the Vanderbilt School of Engineering for the James Geddes Memorial Scholarship. He also holds the distinction of being a Kentucky Colonel – the highest civilian honor awarded by the Commonwealth of Kentucky.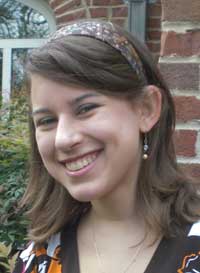 Chelsea Stowell, a member of the Class of 2013, has received a Goldwater Scholar honorable mention. Stowell plans to earn a Ph.D. in biomedical engineering, conducting applied research in industry on implantable active medical devices and drug delivery systems. She is a Cornelius Vanderbilt Scholar who has worked in the lab of W.D. Merryman, assistant professor of biomedical engineering, and held a summer undergraduate research position at the University of Illinois-Chicago involving nanotechnology and drug delivery systems.
Katie Ullmann, a member of the Class of 2013, has been named a 2012 Udall Scholar. She is one of 80 scholars selected from 585 candidates nationwide who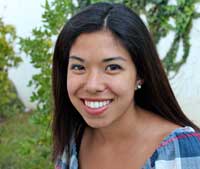 were nominated by their colleges and universities. Ullmann previously won the Udall Scholarship in 2011 and was one of seven students selected again in 2012 for her continued environmental leadership as a Vanderbilt student.
The Udall Foundation recognizes future leaders across a wide spectrum of environmental fields, including policy, engineering, science, education, urban planning and renewal, business, health, justice and economics. Each scholarship provides up to $5,000 for the scholar's junior or senior year and the opportunity to participate in a special assemblage of policymakers and community leaders in the environmental fields, tribal health care and governance held each summer in Tucson, Ariz.
Ullmann, an American Studies major, intends to pursue a career in environmental policy, working to establish local conservation practices and provide incentives for clean development in urban centers. She plans to earn a J.D./M.A. in law and urban planning.
Ullmann has served as an environmental intern in the office of Nashville Mayor Karl Dean, with the 350.org organization and with the South Alliance for Clean Energy. She participated in the building of a clean water pipeline in India and ran a climate change workshop on the Marshall Islands. Ullmann currently teaches in a prison and studies environmental issues in Cape Town, South Africa. At Vanderbilt, she is an Ingram Scholar, founder of the Vanderbilt Green Fund, president of SPEAR and a former organizer of the recycling initiative the Vanderbilt Cardboard Crew, among other activities.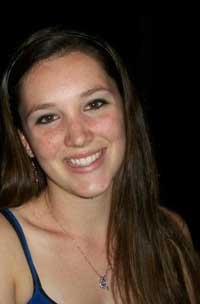 Melinda Shearer, a member of the Class of 2013, has received a Udall Scholar honorable mention. The chemistry and economics major is one of 50 students to receive this recognition, which carries a $350 award.
Shearer plans to become an environmental chemist working on the development of innovative solar energy applications. She works in Associate Professor of Chemistry David Cliffel's lab, is president of the Alternative Energy Club, vice president of the Vanderbilt Biodiesel Initiative, a Curb Center Scholar and active in Vanderbilt Student Volunteers for Science. Last summer, she worked on a conservation project in Costa Rica focused on saving the endangered sea turtle.
The Office of Honor Scholarships provides information, outreach and support to Vanderbilt students who have potential as candidates for nationally competitive fellowships. Prospective candidates meet with the Office of Honor Scholarships to discuss their interests and identify appropriate scholarship and fellowship opportunities for which they should apply. OHS supports them in preparing their applications and assists them in preparing for interviews.
For scholarships such as the Truman, Udall and Goldwater, which limit the number of applicants from each university, OHS administers a campus selection process. For more information about OHS and student support for national scholarship competitions, contact Lyn Fulton-John, director, or Todd E. Peterson, faculty director, at ohs@vanderbilt.edu, or visit the Office of Honor Scholarships website.
Contacts: Lyn Fulton-John, (615) 322-6329
lyn.fulton-john@vanderbilt.edu
Todd Peterson, (615) 322-2648
todd.e.peterson@vanderbilt.edu