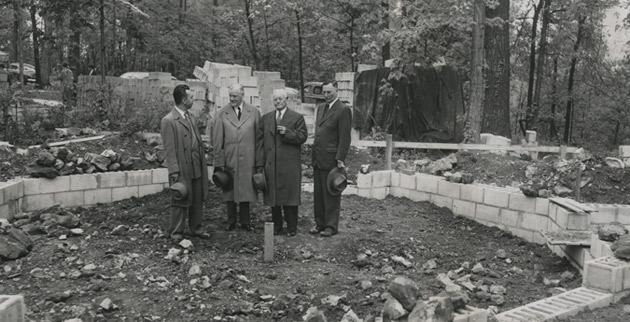 Vanderbilt alumnus Arthur J. Dyer came from humble beginnings but rose to prominence as one of Nashville's most influential business leaders. For his senior thesis, Dyer, a civil engineering student, drew up detailed plans for a bridge to span the Cumberland River from the foot of Broad Street. The thesis not only impressed Engineering Dean Olin Landreth, but also gained the attention of Nashville officials. Several years later, the city moved ahead with the construction of a bridge similar to Dyer's model one block south of Broad – what is known today as the Shelby Street Bridge.
Dyer graduated from Vanderbilt in 1891 and went on to found the Nashville Bridge Company, one of the most prolific bridge-building firms in the Southeast. The company diversified to general construction – fabricating the steel used in the Downtown Arcade and the Hermitage Hotel – as well as shipbuilding. Its headquarters on the bank of the Cumberland River became one of the mid-South's busiest shipyards, constructing barges, tugboats and submarine chasers for the U.S. Navy during World War II.
In the early 1950s, Dyer heard a speech by Vanderbilt astronomy professor Carl Seyfert, who was raising funds to build a new university observatory. Dyer joined the effort, agreeing to donate $25,000 and challenging other local businessmen to contribute. Eighty firms and foundations provided in-kind services and materials to construct the observatory on donated land about 10 miles south of campus. The Nashville Bridge Company built the five-ton, 24-foot revolving steel dome for the observatory's telescope and the 22-foot steel planetarium for its auditorium. The Arthur J. Dyer Observatory was dedicated on Dec. 27, 1953.

Source: Chancellors, Commodores and Coeds: A History of Vanderbilt University by Bill Carey