Media Inquiries
Latest Stories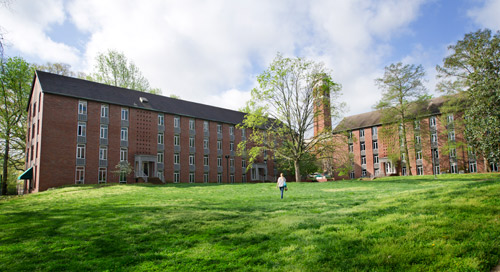 For a short time, there was a rumor going around the office that took water cooler chatter to an all-time high.
The six dormitories at Kissam Quadrangle would be blown up the day after Commencement to make way for the College Halls expansion. It would take two years to construct the new state-of-the-art residential colleges, but first there would be dynamite, and lots of it. Best of all, our building, the Baker Building, with its westward-facing windows, would offer a bird's-eye view of the dramatic implosions. Or so we thought.
A quick inquiry resulted in a slightly less exciting (but more accurate) version of the story. The de-construction of the buildings at Kissam indeed would begin the day after Commencement. But it would be less of a razing then a systematic dismantling – a calculated harvest of as much of the original building materials as possible – in order to qualify the new structures for LEED certification. Less dramatic, to be sure. But more responsible? Of course. And the end result will be, no doubt, phenomenal.
In the meantime, the future work site at the corner of West End and 21st avenues will result in some drama for employees who call this corner of campus home. We will need to hone our skills of patience and adaptation and abandon ourselves to the inevitability of a certain measure of unease. The area, for the foreseeable future, will exist in a suspended state of organized disarray, and there will be inconveniences, like disrupted traffic flow, parking challenges, noise and dust.
And, for those of us looking down from our eighth floor windows at the disheveled landscape below, there might be, at least in the beginning, a sense of forfeiture, even loss.
But none of this is new. Life, after all, is a series of metamorphoses; an unending chain of discomfiting occurrences. Jobs, relationships, a sense of security – all of these are subject to evolution over time. No matter how hard we try to convince ourselves we can fly under the radar, change must come. And whether our world unexpectedly implodes upon itself in a heart-stopping moment of utter collapse, or is methodically disassembled and re-built piece by piece, the process does not have to prove devastating.
Why? Because the future holds good things – for the Kissam Quadrangle, and for each of us ­– we can be certain of that.
The beauty meant for our lives is bound to come. The trick is surviving the in-between.