Media Inquiries
Latest Stories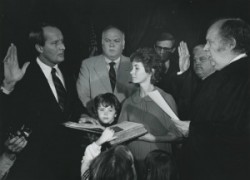 One of the most turbulent eras in Tennessee politics will be revisited April 9 when Vanderbilt University's Heard Libraries and Law School host  "The Governor's Early Swearing-In: Was It the Right Thing to Do? "
The panel discussion with U.S. Sen. Lamar Alexander about his early swearing-in as Tennessee's 45th governor will take place from 6 to 7 p.m. in the library's Community Room.
The panel is part of special programming scheduled in conjunction with the exhibit "Come on along: Lamar Alexander's Journey as Governor," an exhibit drawn from the prized pre-Senate papers that Alexander and his wife, Honey Alexander, recently donated to the university.
Joining Alexander will be former U.S. Sen. Fred Thompson, Tennessee Supreme Court Justice William Koch, former U.S. Attorney Hal Hardin and Tennessee Attorney General Robert Cooper. John Seigenthaler, founder of the First Amendment Center, will serve as moderator.
Alexander, set to be inaugurated on Jan. 20, 1979, as the state's fourth Republican governor, was confronted with an urgent request from then-U.S. Attorney Hardin: agree to take the oath of office early or risk the inappropriate release of inmates by incumbent Gov. Ray Blanton. At the time, the Blanton administration was under investigation for selling pardons to prisoners.
Hardin, who had been appointed by President Jimmy Carter as U.S. attorney for the Middle District of Tennessee, played an integral role with Tennessee's judicial and legislative leaders in making the early swearing-in happen. At the time, Hardin's office was working closely with the FBI on a grand jury investigation of the Blanton administration. Hardin, who is in private practice now, received his J.D. from Vanderbilt Law School in 1968.
Koch was deputy attorney general for Tennessee at the time of the early swearing-in. He reported to then-Attorney General William Leech, whose office had issued an opinion earlier that week on the constitutionality of an early swearing-in. Koch was instrumental in bringing the rule of law for that opinion.
Koch was named legal adviser to Governor Alexander in January 1979. He later served as commissioner of the Department of Personnel and counsel to Governor Alexander. Prior to joining the Supreme Court in 2007, Koch spent 23 years on the Tennessee Court of Appeals. He received his J.D. from Vanderbilt Law School in 1972.
Thompson represented Marie Ragghianti, former chair of the Tennessee Board of Pardons and Paroles and Blanton appointee, in a wrongful termination lawsuit. Governor Blanton had fired Ragghianti in 1977 after she accused his administration of selling clemencies for cash.
Thompson, a 1967 graduate of Vanderbilt Law School, also served as counsel for Alexander and researched the constitutionality of the early swearing-in.
He later played himself in the movie Marie, which was based on a book about Ragghianti's story. It was the first of many acting roles for Thompson, who represented Tennessee in the U.S. Senate from 1994 to 2003. Thompson has continued to work in various roles, including actor, attorney and lobbyist.
Cooper was appointed by the Tennessee Supreme Court to an eight-year term as attorney general in 2006. Prior to his appointment, he served as legal counsel to Governor Phil Bredesen from 2003 to 2006.
He is a former partner at Bass, Berry & Sims, PLC, where he specialized in business, constitutional and regulatory litigation. He clerked for U.S. District Judge Louis F. Oberdorfer in Washington, D.C. The Yale Law School graduate is an adjunct professor at Vanderbilt Law School, where he teaches campaign finance and election law.
John Seigenthaler was editor and publisher of The Tennessean at the time of the early swearing-in. His primary focus was overseeing the coverage of that historic day. He was also in contact with political leaders and their staffs that day as the story unfolded.
Seigenthaler's journalism career began as a reporter for The Tennessean. He left for a brief time during the early 1960s to serve in the U.S. Justice Department as administrative assistant to Attorney General Robert F. Kennedy. Seigenthaler later served as editor, publisher and CEO of The Tennessean and founding editorial director of USA Today.
He founded the First Amendment Center in 1991 with the mission of creating national discussion, dialogue and debate about First Amendment rights and values. The former Nieman Fellow at Harvard University now hosts the signature WNPT program "A Word on Words."
Video of the panel discussion will be posted later at http://news.vanderbilt.edu. For more information, contact Celia Walker at 615-343-4701 or by email: celia.walker@vanderbilt.edu.