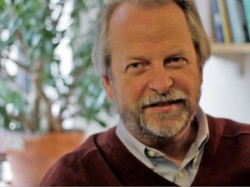 An environmental historian, geographer and landscape architect will speak April 5 at Vanderbilt University.
James Wescoat, the Aga Khan Professor of Architecture at the Massachusetts Institute of Technology, will address "Water and Work in the Mughal Landscape" at 4:10 p.m. in Cohen Hall, Room 203. He will share insights from South Asia's distant past to the use of water in contemporary America as well as Asia.
"Water has been the unifying theme in my work, especially the study of water-conserving design across different scales, regions and cultures," said Wescoat, who has charted a new course in the study of water. "Water is to landscape what energy is to buildings."
Wescoat's research includes site-specific analyses of historical water systems in the Mughal gardens of India and Pakistan during the 1600s and their relevance to current environmental issues within the context of landscape design. He has conducted water policy research in the Colorado, Indus, Ganges and Great Lakes basins and led a study of potential climate impacts in the Indus River Basin in Pakistan.
Wescoat is affiliated with The Aga Khan Program in Islamic Architecture, which is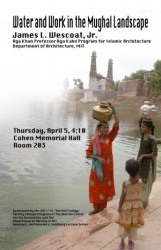 dedicated to the study of Islamic architecture and urbanism, visual arts and conservation and rehabilitation in the Islamic world. He is the co-editor of Political Economies of Landscape Change: Places of Integrative Power (Springer Publishing), and co-author of Water for Life: Water Management and Environmental Policy (Cambridge University Press).
The lecture, which is free and open to the public, is sponsored by the Sacred Ecology Seminar at the Robert Penn Warren Center for the Humanities and the Department of History of Art's Norman L. and Roselea J. Goldberg Lecture Series. Parking is available in lot 95 in front of Cohen Hall by the 21st Avenue South entrance or on 18th Avenue South.
For more information, contact Anne Hill at 615-322-2831 or email: anne.m.hill@vanderbilt.edu.