Media Inquiries
Latest Stories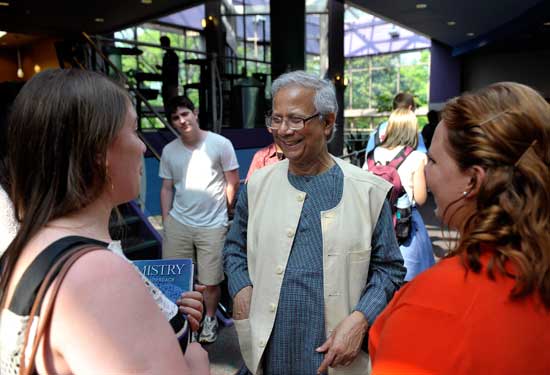 Nobel Peace Prize winner Muhammad Yunus challenged Vanderbilt students to create businesses in which helping people – not making a profit – is the ultimate goal. Yunus spoke to several student groups and alumni during a visit to campus April 2.
"Chasing money has created a lot of the world's problems," Yunus said, though he acknowledged that the human capacity for selfishness is programmed in our DNA. "It's a measure by which we protect ourselves."
But humans also have a great capacity for selflessness, he said. "That's in our DNA, too."
Yunus, who earned his Ph.D. in economics at Vanderbilt in 1971, developed the concept of microcredit and founded the Grameen Bank in his native Bangladesh. Grameen Bank makes small loans to people living in poverty without requiring collateral and at very low interest rates. In 2006, Yunus and Grameen Bank were awarded the Nobel Peace Prize for these efforts.
In 2008, Yunus established Grameen America, a branch of the bank in New York City. The bank now has 7,000 members who boast a payback rate of 99.3 percent, Yunus said. The success has led to the opening of three more branches in New York City, as well as in Indianapolis and Omaha, Neb.
"Money is a very small part of a social business, while creative problem solving is a very big part," Yunus said, challenging the Vanderbilt students to undertake a social business design competition in order to spur their creativity.
"If you create a social business, you have changed the world," he said. "You've sewn seeds for change in others."
Yunus told the students that they are part of the most powerful generation yet, because current technology gives them access to information and allows them to communicate rapidly.
"You have the capacity to change the world very fast," he said. "The question is, what do you want to use this power for?"
Yunus, a 2009 recipient of the Presidential Medal of Freedom, was given Vanderbilt's first Distinguished Alumnus Award in 1996 and the Nichols-Chancellor's Medal in 2007. His visit April 2 was sponsored by the Office of the Provost.