Canadian educators visit Next Steps at Vanderbilt program
Apr. 3, 2012, 5:35 PM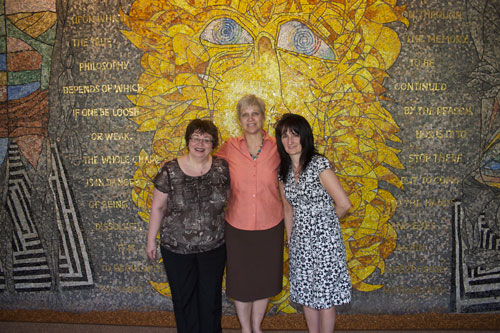 Canadian college officials toured Vanderbilt March 26 to get a closer look at the work being done in the Next Steps at Vanderbilt program.
Next Steps at Vanderbilt is a two-year post-secondary certification program for students with intellectual and developmental disabilities. The program's unique self-directed study allows students to audit university classes, practice independent living skills, work on career development skills and participate in university life. Next Steps students are paired with Vanderbilt student mentors, called Ambassadores, and get help finding internships and ultimately jobs in their chosen fields. Next Steps' first six students graduated in December 2011.
Next Steps provides an ideal model for officials from the College of the North Atlantic, a 17-IHE (Institute of Higher Education) system in Newfoundland that hopes to create a similar program.
"They are in the process of writing a proposal to pilot one post-secondary education program for students with ID/DD, like Next Steps and the University of Tennessee-Knoxville's FUTURES program, with the goal being to then add programs on their other campuses," said Tammy Day, Next Steps director.
College of the North Atlantic's Karen Antle, coordinator of disabled students services, and administrator Joan Pynn have visited several programs in the the United States, Ireland and Western Canada to observe best practices.
The visitors spent the day interviewing staff and others involved about "all aspects of the Next Steps at Vanderbilt program," Day said. "They were able to hear firsthand from students, Ambassadores, professors, internship supervisors, Next Steps staff and Disabled Student Services."
Such a thorough briefing also became a pleasant reminder for Day.
"At the end of the day, I was in awe of the all of the people and effort that have come together to build our thriving post-secondary education program," she said.
Contact: Tammy Day, (615) 343-0822
tammy.l.day@vanderbilt.edu