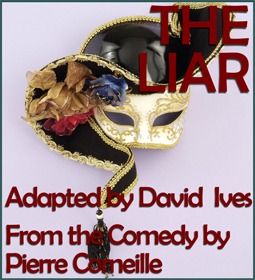 Vanderbilt University Theatre will present David Ives' adaptation of The Liar beginning at 8 p.m. Friday, April 6, at Vanderbilt's Neely Auditorium. This will be the final production of the department's 2011-12 theatrical season.
The Vanderbilt production is based on the American playwright's lively adaptation of Pierre Corneille's comedy, which was first performed in Paris in 1644. The plot revolves around the fabrications of the compulsive liar Dorante and his pursuit of the heart of a woman named Clarice. After much deception and misunderstanding, all is resolved.
Ives' adaptation made its world premiere in 2010 at the Shakespeare Theatre in Washington, D.C. For the new production, Ives merged and cut characters, added subplots and trimmed lengthy speeches that would resonate with modern audiences while not compromising the original storyline of the play. The fine tuning of the centuries-old work resulted in Ives' receiving a MacArthur Award in 2010.
"The Liar is a wickedly funny play with an amazing script," said Terryl Hallquist, the play's director. "It is a challenging one for undergraduate actors, as so much of the comedy comes across verbally. It's written primarily in rhyming verse. Musicality, as well as articulation, are necessary to deliver the plot and the jokes."
Performances of The Liar are scheduled for April 6, 7, 12, 13 and 14 at 8 p.m., and a matinee performance is scheduled April 8 at 2 p.m. Admission is $10 for the general public, $7 for graduate students and free for undergraduates with a Vanderbilt ID.
For more information about Vanderbilt University Theatre, call (615) 322-2404.