Bowling team heads to NCAA Championship April 12-14
by
Rod Williamson
Mar. 30, 2012, 4:12 PM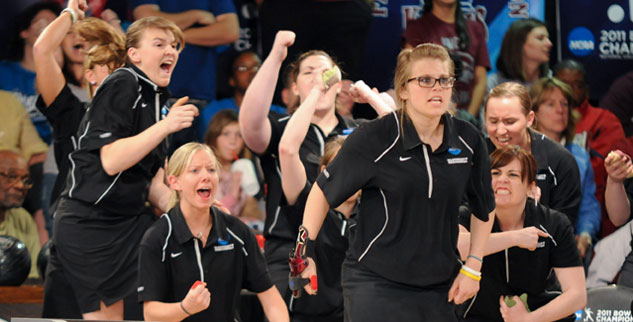 For the seventh consecutive year, Vanderbilt's bowling team has been selected by the NCAA Bowling Committee to be a member of the eight-team field that will compete for the national championship April 12-14 in Wickliffe, Ohio, a Cleveland suburb.
The fourth-ranked Commodores were joined by Arkansas State, Central Missouri, Fairleigh Dickinson, Maryland-Eastern Shore, Nebraska, Sacred Heart and Valparaiso.
Vanderbilt compiled a strong season worksheet that included three tournament championships in nine events and finished among the top four teams in eight of nine outings. The season record is 86-36.
"We are happy and relieved," said Coach John Williamson. "We have been fortunate to have enjoyed a lot of success over the years and sometimes it feels as though our fans take for granted that we will qualify. Every year there are more quality teams in this sport and every year it gets harder to make the championship field. We take nothing for granted. We have enjoyed a good season so far and appreciate the opportunity to bowl in Cleveland."
The NCAA championship bid extends the career of two stalwart Commodore seniors, Brittni Hamilton and Samantha Hesley. The duo was instrumental in leading Vanderbilt to the championship game last year in Detroit, a contest won by Maryland-Eastern Shore, 4 – 2.
Hamilton, who made the NCAA Championship all-tournament team a year ago, admitted waiting for Vanderbilt's name to be called was nerve-racking.
"I started thinking about this a week ago and thought I was doing okay," the three-time All-American said. "But a couple of hours before the announcement I came down with the anxiety symptoms. We did not take this for granted but we knew how much work we have put into this year."
Hesley also showed signs of emotion before and after the announcement, happily pointing out that people "usually don't get a second chance," in reference to last year's runner-up finish.
Afterwards, Williamson outlined the team's timeline for the next two weeks, encouraging each student-athlete to meet with their professors and handle the upcoming academic assignments promptly since the team will likely be departing for Cleveland April 10.
In addition to last year's second place finish, Vanderbilt won the national title in 2007 and was a semi-finalist in 2008.
Teams will practice on Wednesday, April 11, and have a day-long qualifying on Thursday to establish the championship bracket. Friday's Baker games are best four-of-seven, double-elimination. The championship game will be Saturday at 8 p.m. (EDT), televised live on ESPNU. The tournament will be held at the Freeway Lanes of Wickliffe.