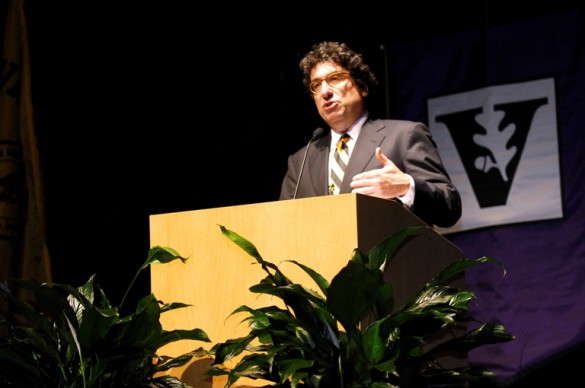 Coming reductions in federal support for research universities including Vanderbilt will be exacerbated by an increase in regulatory burdens and laws that add considerable cost to doing business, Chancellor Nicholas S. Zeppos told the Spring Faculty Assembly.
"Policymakers need to focus on both sides of the equation if we are to continue our work and keep down the costs of education," Zeppos told faculty March 29 at Langford Auditorium.
"Because of your efforts this past year, we have succeeded in the face of what can only be described as a ferocious headwind," Zeppos said. "We've sailed through stormy seas … and for another year, our heartening sense of ourselves as a community of engaged, civil, thoughtful citizens is sustained."
Zeppos, who formally addresses the faculty twice a year, characterized Vanderbilt's "state of the university" as strong in regards to finances, academic distinction and capital projects such as the expansion of the Monroe Carell Jr. Children's Hospital at Vanderbilt and the upcoming construction of two new residential colleges at Kissam Quad and the Life Science, Technology, and Engineering Building.
"This new building intensifies our trans-institutional strategy, one that seeks to provide a more rapid movement of discovery to socially beneficial applications and also produce funds to reinvest in our research mission."
The chancellor acknowledged that protests by some members of the university community have marked the spring semester.
"We have a village of tents with faculty, staff and students participating to protest our endowment investments and other matters," Zeppos said. "We've had a robust and open debate over our principles of nondiscrimination."
This is to be expected in "a community of active and thinking students, faculty and staff who are passionate about their views," he said.
"But rarely will these differences seem stuck at impasse because dialogue, debate and listening occur here every day," he said.
Zeppos' address was preceded by remarks from Faculty Senate chair David Weintraub and a performance by Connie Heard and Amy Dorfman of the Blair School of Music. Five teaching and service awards were awarded by Zeppos to faculty members.