'Doctors of the Dark Side' screens March 28
Mar. 23, 2012, 11:55 AM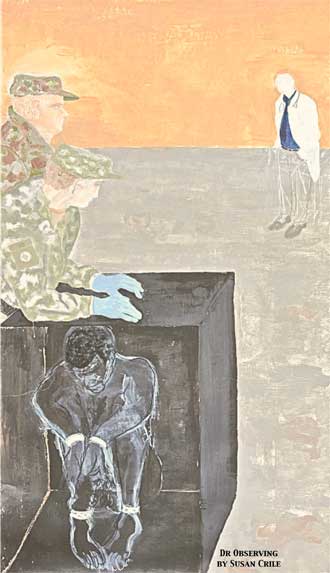 The documentary film Doctors of the Dark Side will be screened at 6:30 p.m. Wednesday, March 28, in Stevenson 4327. The film, produced and directed by Martha Davis, examines the role of physicians and psychologists in the torture of detainees.
The screening is part of The Commons seminar "The Changing Face of Medicine in Film: Marcus Welby to Sicko." Commons seminars are elective courses that allow first-year undergraduate students to explore academic disciplines.
Following the screening, course instructor and Assistant Professor of Otolaryngology John Seibert will moderate a panel discussion on the issues surrounding medical complicity in torture and the role of physicians and psychologists in detainee interrogations and abuse. Marybeth Shinn, chair of the Department of Human and Organizational Development, will participate in the panel.
Watch the film's trailer and learn more.
The screening, co-sponsored by Physicians for Human Rights and Psychologists for Social Responsibility, is part of an outreach campaign that includes showings at Johns Hopkins University School of Medicine, New York University School of Medicine and Georgetown University Law Center.
Contact: Leslie Hill, (615) 322-4747
leslie.hill@vanderbilt.edu