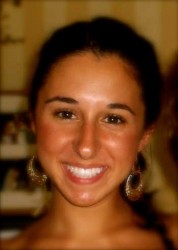 Debra Perrone, a Vanderbilt Institute for Energy and Environment fellow, has been selected to participate in the International Institute for Applied Systems Analysis Young Scientists Summer Program. The IIASA, located in Laxenburg, Austria, is an international research organization that conducts policy-oriented research.
IIASA's annual Young Scientists Summer Program offers research opportunities to talented young researchers whose interests correspond with the organization's ongoing work on issues of global environmental, economic and social change.
A Ph.D. candidate in environmental engineering from New Jersey, Perrone will conduct energy and climate change research from June through August 2012.  She plans to study how demand-side management of U.S. water resources may be affected by anthropogenic-induced climate change.
"I am honored to have been selected to participate in IIASA's 2012 Young Scientists Summer Program," Perrone said.  "My decision to apply to the YSSP stemmed from IIASA's reputation for conducting policy-relevant research in an interdisciplinary environment. Participating in the three-month summer program will expand my knowledge base and allow me to gain additional perspective on global environmental, economic, social and political issues. I am very excited to have the opportunity to network with peers who have similar interests but different backgrounds."
George Hornberger, director of VIEE, sees Perrone's selection as an excellent opportunity to further her ongoing research at Vanderbilt.
"I am greatly pleased that Deb has won the summer appointment at IIASA," Hornberger said. "The IIASA agenda of investigating the critical issues of global environmental, economic, technological and social change are totally commensurate with the mission of VIEE.
"Deb's experience at IIASA will enrich the research that she is doing for her Ph.D. here at Vanderbilt, which aims to develop analysis tools appropriate to water-energy-food issues and to apply these to important problems for planning for adaptation to climate change in the face of multiple stresses on resources and in the face of uncertainties," he said. "This is work that is critically needed."
Contact: Mike Powell, (615) 343-1062
mike.powell@vanderbilt.edu