Media Inquiries
Latest Stories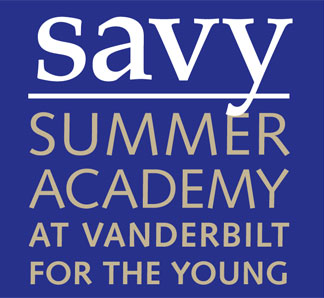 The Summer Academy at Vanderbilt for the Young (SAVY) will conduct summer courses from 9 a.m. to 4 p.m. Monday-Friday during two one-week sessions, July 9-13 and July 16-20.
SAVY provides a dynamic, fast-paced curriculum experience to qualifying gifted children in rising first through seventh grades.
Vanderbilt faculty and master teachers trained in gifted education implement an accelerated, research-based curriculum for all SAVY courses. SAVY is for gifted students in rising first through seventh grades who typically test at the 95th percentile and above on either verbal or nonverbal sections of academic achievement or ability tests.
SAVY features small classes designed for the exceptionally talented and motivated learner. Some of our current course offerings include "Engineering," "Botany," "German," "Road to the White House," "Algebra" and "The Social Life of Crickets."
Students choose one course for the entire one-week program. Students may choose to come to one or both weeks of SAVY. If a student wants to attend both weeks, we encourage choosing a different course for the second week.
Class size is limited to approximately 12 students for grades 1-3 classes and approximately 15 students for grades 4-7.
SAVY classes are held at the University School of Nashville.
For more information, visit the Programs for Talented Youth website.
Contact: Megan Parker Peters, (615) 322-8261
megan.peters@vanderbilt.edu