https://youtu.be/3JbwZQkQ3FU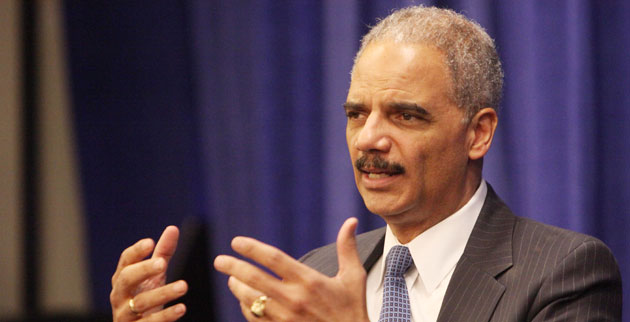 U.S. Attorney General Eric H. Holder Jr. opened the Cecil Sims Lecture at the Vanderbilt University Law School March 16 by congratulating Vanderbilt on its academic – and recent athletic – accomplishments.
"This university has distinguished itself as a training ground for some of our nation's greatest scholars, advocates, policymakers and – as we've seen this week – basketball players," he said, to applause. "I realize that it's the first Friday of 'March Madness,' and … the fact that hundreds of you are gathered here speaks to the importance of this discussion."
He went on to note the significance of the achievements of the lecture series' namesake.
"Although nearly a full century has passed since Cecil Sims graduated from this law school with top honors … his example still serves as a reminder that the actions of a single person can make a difference in countless lives," Holder said. "… His commitment to expanding opportunity, to combating segregation and discrimination, and to serving his fellow citizens was extraordinary."
Holder said that when President John F. Kennedy visited campus in the early '60s, he observed Vanderbilt's deep commitment to social justice.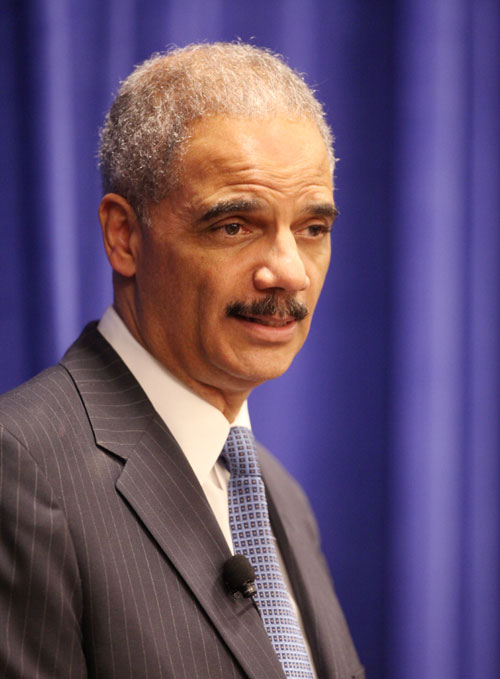 "President Kennedy rightly predicted that 'liberty and learning will always be … touchstones of Vanderbilt.' And he noted that with fidelity to these ideals, this university would continue to stand for both human rights and human enlightenment."
Holder noted that at the time of Kennedy's historic visit, Vanderbilt was the first private law school in the South to racially integrate its campus.
"… (That) was an indicator of the progress that our nation was about to make," Holder said, adding that many of Vanderbilt's students and faculty have been among the nation's most vocal advocates for social justice.
Though much progress has been made since the days of segregation, the work of protecting the rights of all Americans is by no means finished, Holder emphasized.
The Justice Department and the Obama Administration have made historic efforts to protect and improve the lives of Americans by expanding access to legal services, combating hate crimes, and protecting the right to vote, Holder said. They have held accountable those who have perpetrated financial, health care and consumer fraud, resulting in lengthy prison sentences and billions reclaimed.
"This type of collective action – across all levels of government, state boundaries and party lines – is precisely what the challenges before us demand," Holder said. "It's also what the American people deserve."
This work doesn't stop with the Justice Department, he said.
"This is your mission," he said, addressing the law school students. "At this precious and defining moment, it is also your breathtaking opportunity. … My hope is that you will use your talents and training … to move our nation forward and build a justice system that is worthy of our founding ideals."
A Q&A session continued the discussion, with queries pre-submitted by students and faculty. When asked what advice he had for individuals soon to enter the field of law, he said, "Pass the bar. Pursue any kind of law you like. But always think of yourself as a public interest lawyer. Dedicate a portion of your time to giving back. Make America better."
A reception followed. Among others in attendance were Attorney General Bob Cooper, Congressman Jim Cooper and United States Attorney Jerry Martin, as well as noted Civil Rights pioneer John Siegenthaler.