Media Inquiries
Latest Stories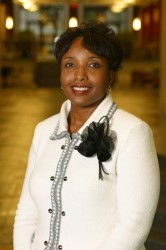 Scholars will discuss the intersection of religious freedom, freedom of conscience, freedom of association and freedom of speech on a range of  contemporary issues at a forum March 15 at Vanderbilt University.
The 7 to 8:30 p.m. forum in the Renaissance Room (36) at Vanderbilt Law School is free and open to the public.
Moderated by Carol M. Swain, professor of law and political science, the event will include presentations by James F. Blumstein of Vanderbilt, Robert P. George of Princeton University and Michael Paulsen of St. Thomas School of Law.
The presentations include:
"Health Care and Freedom of Conscience" by Blumstein, University Professor of Constitutional Law and Health Law and Policy;

"The Overruling of a Ban on Same-sex Marriage in California (Proposition 8)" by George, McCormick Professor of Jurisprudence at Princeton University and the director of the James Madison Program in American Ideals and Institutions;
"Religious Freedom on College Campuses" by Paulsen, Distinguished University Chair and professor.
"Threats to Religious Liberty: On Campuses and Across the Nation" will be recorded for podcast on the Vanderbilt University news site.
Sponsors include Vanderbilt Law School, Lee and Kelly Beaman, Campus Republicans, the Law and Government Program at Vanderbilt Law School, Young Americans for Liberty, the Christian Legal Society and the Intercollegiate Studies Institute.