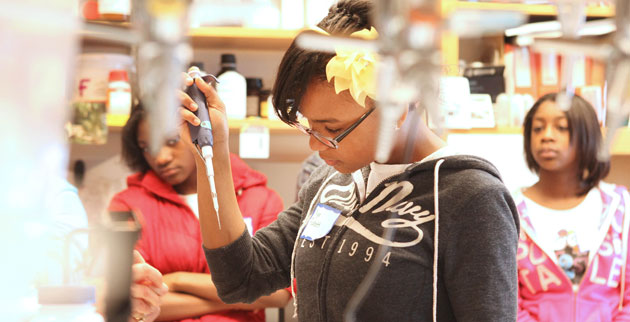 During a visit to campus on March 12, members of the Joelton Middle School Art2STEM club – an after-school organization for middle school girls that highlights the importance of creativity in the fields of science, technology, engineering and mathematics – got to see what a real future as a scientist might be like.
The students started their morning in the Stubbs lab in MRBIII hosted by lab manager Amy Kendall.
"We met for a few minutes to give an overview of the morning's activities and to introduce the scientists, who they are and what they do," said Kendall, a former middle school science teacher. "Most students know very little about careers in science and the preparation that is required, so we thought that would be helpful."
Amy Kendall, manager of the Stubbs lab, instructed the Joelton Middle School students who visited the lab on March 12. (Susan Urmy/Vanderbilt)

The Art2STEM students were divided into groups to participate in several hands-on activities. Some grew protein crystals and learned how to use X-rays to determine structures. Liquid nitrogen is often used to protect crystals from X-ray damage, so the students had the opportunity to observe some dramatic experiments involving liquid nitrogen and rubber objects.

Some group members spent time in Vanderbilt's Cell Imaging Shared Resource observing plant sections with CISR's new environmental scanning electron microscope. Other students visited the Vanderbilt Institute of Nanoscale Science and Engineering and imaged quantum dots with a transmission electron microscope.

"Real science is about getting your hands dirty – being curious about what the guts of your DVD player look like or how acidic that Coke you're drinking really is," Kendall said. "There are so few funds available for classroom supplies that most kids don't have many opportunities to experience real science within the classroom setting. Programs like Art2STEM and Vanderbilt Student Volunteers for Science make it possible for elementary and middle school students to have these types of real experiences that help to inspire a lifelong curiosity about the world and how it works."

The visit was coordinated by Donna Pritchett, art director in the Division of Public Affairs, who is a volunteer mentor for Art2STEM.

"I volunteered because the need was there," Pritchett said. "It's easy for me to relate to the students since my daughter is about their age. I think kids need responsible adults, in addition to their parents, who care about them and can encourage them. I was into art from a very early age and the encouragement I was given by my parents and teachers certainly had an impact on my career choice as a graphic designer."

Art2STEM emphasizes the creative aspects of the STEM fields. (Susan Urmy/Vanderbilt)

Others involved with instructing the students during the Vanderbilt vist were James McBride, research assistant professor of chemistry (VINSE); Matt Stephenson, research assistant III (CISR); Will Wan, graduate student in the chemical and physical biology graduate program; and Joe Groom, honors undergraduate researcher in the Department of Biological Sciences.

In April, Pritchett will introduce the club members to graphic design and end the year with a field trip to Nossi College of Art.