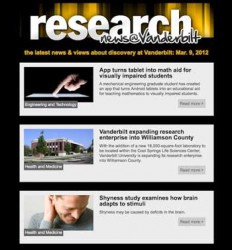 Research News @ Vanderbilt is Vanderbilt's award-winning news site telling the stories of the work Vanderbilt researchers are doing across the campus and medical center.
Stay up to date by subscribing to the weekly Research News @ Vanderbilt email.
Every Friday afternoon, you'll read about the latest Vanderbilt discoveries in health and medicine, education and psychology, engineering and technology, law, business and politics, life, Earth and space, and society and culture.