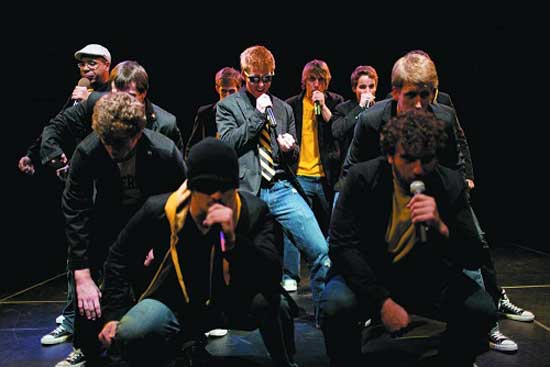 The International Championship of Collegiate A Cappella (ICCA) South Semifinal, hosted by Varsity Vocals, will be held on the Vanderbilt campus Saturday, March 17, and will showcase the eight best collegiate a cappella groups in the Southern United States. These groups are vying for a first-place win and a trip to New York City, where they will compete against other groups from the United States and around the world for the title of ICCA Grand Champion.
The competition will feature Vanderbilt's own Melodores, who last year advanced to the finals in New York and placed third in the world behind two groups that were both recently featured on the NBC television series The Sing-Off: Pitch Slapped and Vocal Point. The Melodores beat out four other vocal groups, including one from the United Kingdom, and are seeking to improve on their standings this year. Read more about the Melodores.
The ICCA South Semifinal will begin at 7 p.m. in Ingram Hall. Tickets may be purchased at the Sarratt Student Center box office. For more information about the 2012 ICCA or the ICCA South Semifinal, visit the Wikipella website.
Contact: John Baunach
john.d.baunach@vanderbilt.edu