Shepherd to discuss 'Nobel Women' at Woman's Club lunch event
Mar. 8, 2012, 5:30 PM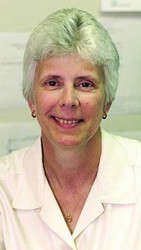 Virginia Shepherd, professor of pathology and science education at Vanderbilt, will discuss Nobel Prize-awarded women from several aspects – their educational backgrounds and opportunities, their families, their scientific contributions and their acceptance by colleagues – on Thursday, March 29, at Vanderbilt Dyer Observatory. The talk is part of the popular Dyer Lecture and Lunch Series sponsored by the Vanderbilt Woman's Club.
The event will be from 10 a.m. to 1 p.m. at Dyer Observatory, 1000 Oman Drive, in Brentwood. The lecture is free and open to the public, but reservations are required. If you would like to purchase a box lunch to enjoy after the lecture, please indicate so on your reservation form.
To make a reservation, print the reservation form and mail it completed to: Vanderbilt Woman's Club, 1000 Oman Drive, Brentwood, TN 37027 by March 19. Include a $12 check per person if ordering a box lunch.
Shepherd, who came to Vanderbilt in 1988, is a professor of pathology and medicine at the Vanderbilt School of Medicine and a professor of science education at Vanderbilt's Peabody College of education and human development. She also is director of the Vanderbilt Center for Science Outreach. Shepherd earned her bachelor's degree in chemistry at the University of Iowa, where she also received her M.S. and Ph.D. in biochemistry.
About the Vanderbilt Woman's Club
The Vanderbilt Woman's Club brings together the women of Vanderbilt University and provides opportunities for intellectual, cultural and social activities within the community and the university. The club supports and assists the mission of the university and sponsors the Ada Bell Stapleton-Blanche Henry Weaver Scholarship through fundraising efforts.
The club was founded in 1893 under the name Vanderbilt Ladies' Literary and Musical Club. The name was changed to the Vanderbilt Woman's Club in 1896. Current membership includes more than 300 faculty, staff, faculty spouses and other members of the greater Nashville community who come together in friendship, fellowship and scholarship. During the academic year, social and educational programming fills the calendar from September through May.
For more information, including how to become a member, visit the Vanderbilt Woman's Club website.
Contact: Lynn McDonald, (615) 373-4897
lynn.d.mcdonald@vanderbilt.edu