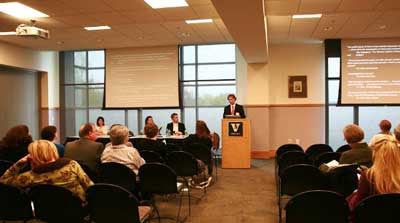 Creativity and the written word will be celebrated at Vanderbilt's fourth annual Undergraduate Writing Symposium. The event will be held from 2 to 7 p.m. Sunday, March 25, at The Commons Center.
The symposium will feature Vanderbilt students presenting and discussing their writing projects from across the disciplines. The event will include remarks by Associate Provost for Undergraduate Education Cynthia Cyrus, as well as a reception at the residence of the dean for The Martha Rivers Ingram Commons.
Participating students include: Priyanka Atreya, Sarah Lee Best, Peter Blumeyer, Catherine Brewbaker, Matthew Campbell, Laura Carson, Neal Cotter, Lila Davis, Margot Danis, Elise Dirkes-Jacks, Samuel Fogarty, Elizabeth Furlow, Matthew Harper, Hayley Karlan, Chelsea Marie Lee, James Litzow, Eliza McGehee, Thomas McLaughlin, Katharine Miller, Margaret Mirro, Angela Romano, Nemi Shah, Hannah Sills, Clay Skipper, Christopher Taylor, Jay Watson, Christi Weinhuff, John Wheeler, Elisabeth Wheelock, Rachel Witt and Michael Woods.
See the complete program for the 2012 Undergraduate Writing Symposium.
Contact: Amanda Middagh, (615) 343-2225
amanda.middagh@vanderbilt.edu