Reservations through the Vanderbilt Office of Conferences for summer 2012 must be made by Thursday, March 15.
Each summer, the Office of Conferences hosts conferences, camps and retreats as well as housing for interns and researchers in the residence halls left largely vacant between the spring and fall semesters. Just under 6,000 guests comprising more than 80 unique groups visited campus last summer. In addition, summer interns, researchers and others were housed as part of the Summer Intern Housing program.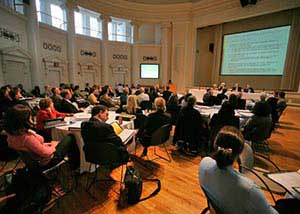 Groups that have been hosted at Vanderbilt include participants in the annual Special Olympics of Tennessee Summer Games, iDTech Camps, Campus Pride and the Foundation for Teaching Economics. Groups working with the office gain access to residence halls, Vanderbilt Dining outlets, parking, ground transportation service, campus meeting spaces and much more, all with the convenience of a single invoice.
Contact: H.G. Stovall, (615) 343-8699
hg.stovall@vanderbilt.edu