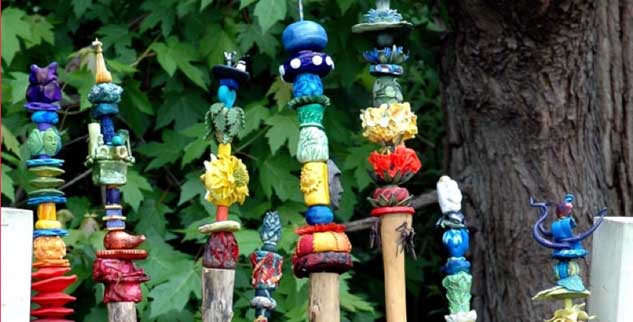 Sarratt Art Studios is pleased to host a weekend workshop on March 17 and 18, 2012, with internationally acclaimed artist, instructor and author Lindly Huanani.
Participants will explore sculpting with polymer clay and applying color with alcohol based inks in the workshop "Rainbow Chakra Totems (Embracing meditation, intuition and intention to design your color stories).
Lindly Haunani is best known for her sensitive use of color and gentle and empowering teaching style. She has over 20 years of experience as a polymer clay workshop leader and has taught hundreds of workshops ranging from three-hour seminars to week-long residential intensives. She is one of the founding members of the International Polymer Clay Association, co-author of Polymer Clay Color Inspirations and Artists at Work, and the star of several how-to videos.
Tuition and materials fee for VU students is $120. The cost for VU faculty/staff is $150; $160 for others from the Nashville community. No prior experience is required.
Workshop hours are from 9 a.m. to 5 p.m. each day in Sarratt Student Center. Registration is available online and you may pay with Visa or Mastercard.
Contact David Heustess (615) 343-0491
david.f.heustess@vanderbilt.edu