Media Inquiries
Latest Stories
Vanderbilt's Outdoor Recreation Program offers many ways to enjoy the great outdoors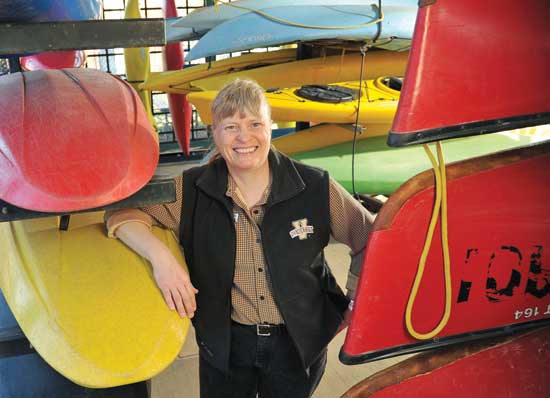 Reach down and trail your fingers through the cool water of the Harpeth River. Feel the spray of Burgess Falls on your face, or the rush of your own adrenaline as you climb Kings Bluff.
These are experiences not to be missed, and Vanderbilt's Outdoor Recreation Program can make them happen.
Through Outdoor Rec, Vanderbilt faculty, staff, students and alumni can experience outdoor adventure while exploring and enjoying Tennessee's beautiful natural environment. Launched in 1990 at the opening of the Student Recreation Center, the program offers guided adventure trips, equipment rental, kayak workshops, a climbing wall at Student Rec's campus location and a resource library. Originally housed in the Student Rec Center's main building, the program moved in 1997 to a separate facility next door, which is easy to spot because of the brightly colored kayaks and canoes visible in the adjacent storage shed.
Kayaking and canoeing are just part of the adventure story at Outdoor Rec. There's also hiking, backpacking, camping, climbing, bouldering and rafting, and all the equipment you might need to rent. Because Tennessee has so much to offer the outdoor enthusiast, travelers don't have to go far to enjoy beautiful natural areas.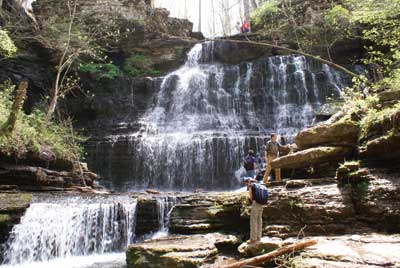 "I have many good things to say about Vanderbilt Outdoor Recreation," said Ray Erlandson, a computer systems administrator in the Department of Biomedical Engineering. "It's a great way to get some exercise on the weekends with a short trip to a local state park, or by spending an entire weekend hiking, camping, climbing, canoeing or backpacking. I would highly recommend Outdoor Rec to first-time hikers or experienced backpackers … and the rafting trips on the Ocoee River are a lot of fun."
The trips offered by the Outdoor Rec program follow a cooperative adventure philosophy and a "leave no trace" ethic, according to Linda Rosenkranz, who has directed the program since its inception.
"In a cooperative adventure," Rosenkranz explained, "everyone is in it together. There can be different leaders rising from the group depending on the situation." The trip coordinators ensure a safe trip, handle the driving and lead the activity. However, any trip participants with the necessary skills can be team leaders as well. Everyone pitches in with the tasks, including making sure their visit has a mimimal impact on the area and its foliage and wildlife.
Most of the trips are designed for 10 to 12 people. The small-group setting makes it easier for everyone to get to know one another. Beginners are welcome on most trips, and costs for outings within Tennessee typically range from about $20 for a day of hiking or climbing to about $75 for overnight camping to $115 for three and a half days of backpacking. The fee includes transportation, in-camp food and group or specialized equipment.
Vera Pentcheva, a referral specialist with Vanderbilt University Medical Center's Department of Oral and Maxillofacial Surgery, learned about the Outdoor Rec Program from a friend and has been a regular ever since. She has participated in local and far-away excursions – including to the Great Smoky Mountains and Steamboat Springs, Colo. – where she has gone backpacking, spelunking, canoeing and white-water kayaking.
"[lquote]I love the opportunity to meet new people while sharing my passion for outdoor activities," she said. "Trips are very affordable, the food is great and there is something for everyone, whether they prefer leisurely or intense activity."[/lquote]
Some outings offer a different kind of adventure – the opportunity to help maintain or restore nearby natural areas. These service trips are free and usually include lunch as well as any tools or equipment needed. "We've practically adopted Beaman Park," said Rosenkranz of the 1,700-acre park near Joelton, Tenn., that opened in 2005. Outdoor Rec's planned outing to the park this spring will be dedicated to building a 350-foot boardwalk from the park's nature center to a scenic overlook.
For nearly 20 years, volunteers have helped to clean up a section of the Harpeth River State Park, a frequent destination for Outdoor Rec canoeing and kayaking trips. Participants in this spring's service trip will work to build river access points. And on the fourth Saturday of each month, volunteers can head to Radnor Lake, just 20 minutes from campus, to help with trail maintenance.
For those looking to plan their own outdoor adventure, the resource library located inside the Outdoor Rec Center can help. Maps and magazines are available as well as a wide range of books, such as Animal Tracks of Southeast States, Whitewater Handbook, Middle Tennessee on Foot, Basic Essentials of Edible Wild Plants and Herbs and the Wilderness Ranger Cookbook. Library items are available to check out for 75 cents or can be used free of charge at the center.
Expert staff at the center can help with trip planning and provide guidance in choosing the right equipment, which is available to rent from Outdoor Rec. Backpacks, tents, sleeping bags, kayaks, canoes, paddles, personal flotation devices and even smaller items such as camp stoves and coolers are available, and all are high quality and rented at reasonable rates.
"Getting away from your usual routine, for even just a day, is a good thing," Rosenkranz said. "You can challenge yourself, learn a new skill and meet new people. Tennessee has a number of beautiful places to visit and photograph. Even after all these years, I keep finding great new locations."
See the Spring 2012 Adventure Trip Schedule
written by Donna B. Smith