Dave Perkins, What's Your Story?
by
Joan Brasher
Mar. 1, 2012, 8:00 AM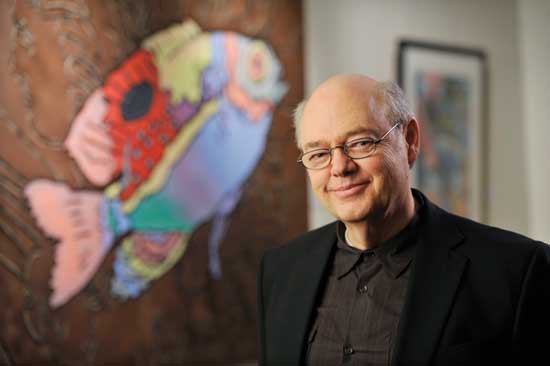 "For me, the creative life is a life of the spirit," said Dave Perkins, musician, Vanderbilt Divinity School graduate and associate director of the school's Religion in the Arts and Contemporary Culture program. "An animating force is given to you, and at the same time you're using it as a tool. You become a conjuror of sorts, breathing something into a composition."
Perkins has been a conjuror of music most of his life. While his parents played special music for churches in the New Jersey area where he grew up, it was rock 'n' roll and the blues that spoke to him. So Perkins scraped together $35, bought a guitar at a pawnshop and taught himself to play.
Later, after graduating from Georgia College, Perkins toyed with the idea of law school but decided to become a musician instead. Over the course of many years, he played guitar – from Woodstock to Nashville to Austin to New York City – worked with notable artists and formed his own band. But when his children reached school age, he decided it was time to settle in Nashville.
"When I got back," Perkins said, "the Christian music business had come to Nashville and I got really involved." But, after several years, he was burned out on the business. He had always loved philosophy and theology, so he signed up for a couple of classes at Vanderbilt Divinity School.
"That was the slippery slope," Perkins laughed. "I fell in love with it. It was another kind of creative work for me." He decided to pursue a master of divinity degree and then a doctorate. Music was put aside for academics until one day late in his graduate career when he was diagnosed with cancer.
"I went through a pretty rugged couple of years," said Perkins, now cancer-free. "It was during that time that I realized that at the base level, I am a music maker. Music is life-giving for me. And I pledged to myself that I would never again not make music."
An opportunity came along recently for him to get back to music in a new way. After discovering Perkins' album Pistol City Holiness, local filmmaker Curt Hahn asked him to create the soundtrack for Deadline, a 2012 feature film based on the true story of a racially motivated killing in rural Alabama. Perkins embraced the challenge, scoring and performing all the music for the film.
With a Ph.D. and movie soundtrack completed, Perkins is now focusing on his work with the Divinity School's newly formed Religion in the Arts and Contemporary Culture program. "This program is providing what I was looking for when I came to the Divinity School: a way to put the arts in conversation with religious studies," he said.
"When I got sick, all I could think about was music making. It was through music that I did all my important business with the universe," he said. "But the universe doesn't always allow you to do only that. Sometimes you do other things. Fortunately, I found something that I love almost as much as music."
written by Donna B. Smith