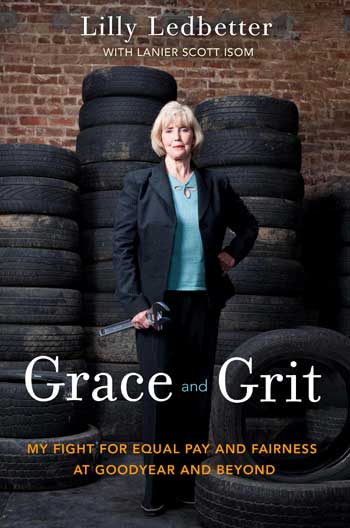 Longtime Alabama Goodyear Tire and Rubber Company employee Lilly Ledbetter did not set out to be an activist, but her fight for equal pay went all the way to the Supreme Court. And in 2009, President Obama signed the Lilly Ledbetter Fair Pay Act – the first bill he signed into law. Ledbetter brings her story to Vanderbilt University on Tuesday, March 13.
Ledbetter will discuss "Grace and Grit: My Experience with Equal Pay for Equal Work." The event is the 2012 Cuninggim Lecture on Women in Culture and Society. The event, from 6 to 8 p.m. in the Student Life Center Board of Trust Room, is free and open to the public. Those interested in attending must RSVP online.
The Cuninggim Lecture is endowed through the Margaret Cuninggim Women's Center at Vanderbilt University.
Nineteen years after Ledbetter began employment with Goodyear Tire and Rubber, she discovered that she was earning far less than her male counterparts for the same work. After eight years of appeals, her case was heard in the U.S. Supreme Court, where in a 5-4 vote Ledbetter lost on a technicality. While she will never receive the pay denied her during the many years she worked for Goodyear, the Lilly Ledbetter Fair Pay Act is designed to prevent future inequities by expanding workers' rights to sue in this kind of case and by relaxing the statute of limitations.
Ledbetter's new book, Grace and Grit: My Fight for Equal Pay and Fairness at Goodyear and Beyond, debuted last month and shares for the first time publically the story of her hardscrabble upbringing in Possum Trot, Ala.; the hard work and ambition it took to earn her dream job at Goodyear; and the details of the daily sexual harassment she faced as a female supervisor in a male-dominated environment.
Part of the Office of the Dean of Students, the Margaret Cuninggim Women's Center offers a space for the entire Vanderbilt community to gather, nurture and support one another as well as celebrate women's achievements. The center develops and presents programs about gender and women's issues, enhances women's practical skills and fosters creative expression.
Contact: Kayce Matthews, (615) 322-4843
kayce.matthews@vanderbilt.edu