Media Inquiries
Latest Stories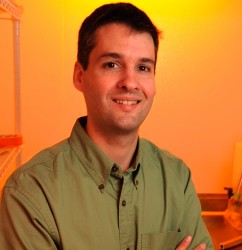 Julian F. Hillyer, assistant professor of biological sciences at Vanderbilt University, is the 2012 recipient of the Recognition Award in Insect Physiology, Biochemistry and Toxicology from the Southeastern branch of the Entomological Society of America (ESA).
The purpose of the annual award, which consists of an inscribed plaque, is to recognize and encourage innovative research in the areas of insect physiology, biochemistry and toxicology in the broad sense.
According to ESA, Hillyer "has established a productive lab, has been a magnet for many gifted students and has contributed to the advancement of the field of mosquito circulatory physiology and the cellular and molecular bases of insect immunity."
The image of a mosquito heart taken by one of his graduate students was awarded first place in the Nikon Small World Photomicrography 2010 competition.
The award will be presented on March 6 at the joint meeting of the Southeastern and Southwestern Branches of ESA in Little Rock, Arkansas.