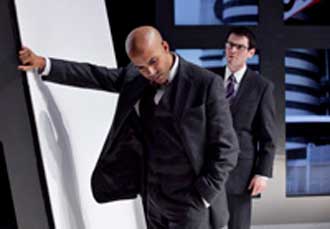 Great Performances at Vanderbilt will present a production by The Acting Company of William Shakespeare's Julius Caesar Wednesday, Feb. 29. The 7:30 p.m. performance will be held in Langford Auditorium.
"The Acting Company endures as the major touring classical theater in the U.S.," according to The New York Times.
Acting Company director Rob Melrose says that now is "a perfect time to re-examine a play that looks at what happens when political convictions create conflict and tragic upheaval."
"Imagine a Julius Caesar that captures the energy and excitement of American politics of the last presidential and mid-term elections: the rallies, the protests, the political spectacles of conventions, bill signings and the Congress, the high-stakes speeches and debates, and of course the behind-the-scenes deal-making and strategizing," he said.
Tickets for the performance are on sale now at the Sarratt Student Center box office, all Ticketmaster locations, Ticketmaster telecharge at 800-745-3000 or online.
Single ticket prices are $40, $35 or $30 for individuals, $18 for Vanderbilt faculty and staff, $10 for all area students and children with a valid ID, and $5 for Vanderbilt students.
If available, tickets will be sold the night of the performance at the box office. For more information, visit the Great Performances website.
Contact: Bridgette Kohnhorst, (615) 322-0849
bridgette.k.kohnhorst@vanderbilt.edu