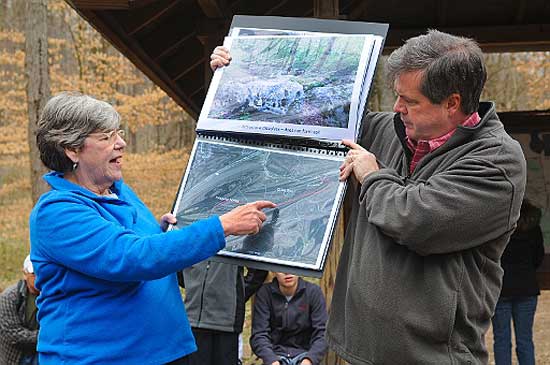 Clouds and temperatures in the 50s on a Saturday afternoon were the perfect backdrop for a delightful geology walk with Nashville Mayor Karl Dean Feb. 18 at Percy Warner Park.
Molly Miller, professor of earth and environmental sciences at Vanderbilt, accompanied by Anne Choquette, a hydrologist with the U.S. Geological Survey, led more than 200 people of all ages and some pets on the two-mile walk along the Mossy Ridge Trail.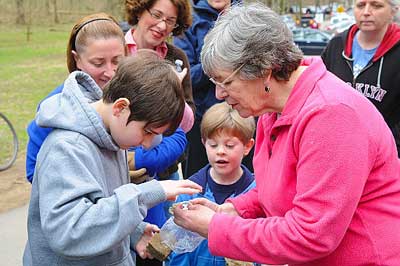 "The crowd size made it a little challenging to point out the major features and talk about the area's geological history, but we taught people along the way what to point out, and they seemed to enjoy their roles," Miller said. "It was a quick solution to the challenge of communicating with a large group spread out along the trail." Among those assisting Miller were Charles Singleton, professor and chair of biological sciences; graduate student Leslie Wallace Auerbach; and undergraduates Courtney van Stolk and Daniel Birmingham.
Dean said that he became interested in geology after taking a course in college and continues to be fascinated with all that can be learned about the earth by looking at rocks and different formations.
Future walks with the mayor, who has set a goal of making Nashville a healthier city, include educational walks focusing on archaeology and spring flowers.