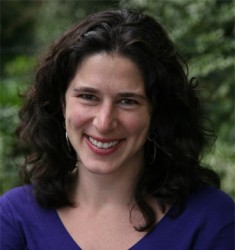 Rebecca Traister, a Salon.com senior writer who covered the 2008 presidential race from a feminist and personal perspective, will speak Feb. 22 at Vanderbilt University.
Traister's talk, which is free and open to the public, has the same title as her 2010 book – Big Girls Don't Cry: The Election that Changed Everything for American Women. She will speak at 7 p.m. in Stevenson Center, Room 4309. In addition, she will sign copies of her book at 6:30 p.m. in the same location.
Traister grew up near Philadelphia and majored in American Studies at Northwestern University. She began her media career as an assistant at Talk magazine and then worked at the New York Observer. In 2003 she became a staff writer at Salon.com, where she has covered women in media, politics and entertainment.
Some of her articles have focused on Hillary Clinton, Sarah Palin, Michelle Obama, the media's coverage of the candidates and the role of women within the media. Other publications where her work has appeared include Elle, The New York Times, Nation and Vogue. She also has been interviewed by CNN, MSNBC and NPR.
Traister's talk is presented by the Women's and Gender Studies Program at Vanderbilt University. It is co-sponsored by the Office of Student Life, the Robert Penn Warren Center for the Humanities, Department of English, Department of Political Science, Center for the Study of Democratic Institutions, Office of Active Citizenship and Service, the Margaret Cuninggim Women's Center, the Writing Studio and Communication Studies.
For more information, call 615-343-7808.