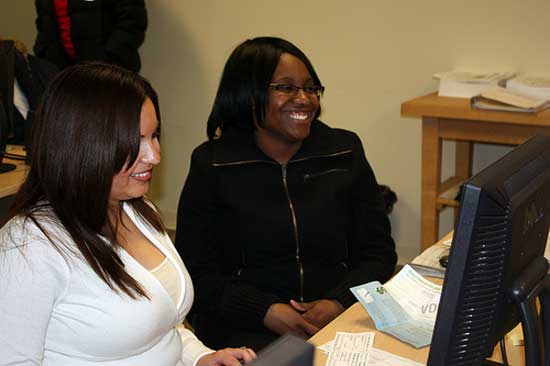 Families who have a household income of $55,000 or less qualify for free tax preparation assistance through a partnership with United Way of Metropolitan Nashville. The 2012 deadline for filing a federal income tax return is Tuesday, April 17, so plan ahead and take advantage early of this valuable program.
Vanderbilt's Volunteer Income Tax Assistance (VITA) sites operate every Tuesday from 4 to 8 p.m. and Thursday from 1 to 5 p.m. through April 19. The sites will be closed during the week of March 5 for Vanderbilt's spring break.
Qualifying persons can receive the free services two ways:
In person at Sarratt Student Center on the dates and times listed below.
By completing their taxes themselves using the Beehive software on Thursdays from 1 to 5 p.m. Beehive is free and user-friendly, and VITA volunteers will be on hand to answer questions.
In order to have your tax return prepared by a VITA volunteer, you must bring a photo ID and Social Security card for everyone listed on the return. Additionally, married individuals filing jointly must both be present. For further information on what documents are required, visit United Way online or contact the United Way helpline at 2-1-1.
With free e-file and direct deposit, refunds are usually processed in 7-10 days.
NOTE: VITA does not provide tax preparation assistance for international persons who are classified as "non-resident aliens for tax purposes" and need to file a 1040-NR or 1040NR-EZ. Vanderbilt's international tax office provides information at Annual Tax Filing Info For NRAs.
Feb. 16, 1-5 p.m., Sarratt 189
Feb. 16, 4-8 p.m. Sarratt 363
Feb. 21, 4:30-8 p.m., Sarratt 110
Feb. 23, 1-5 p.m., Sarratt 363
Feb. 28, 4-8 p.m., Sarratt 363
Mar. 1, 1-5 p.m., Sarratt 363
Mar. 13, 4-8 p.m., Sarratt 110
Mar. 15, 1-5 p.m., Sarratt 189
Mar. 20, 4-8 p.m., Sarratt 110
Mar. 22, 1-5 p.m., Sarratt 363
Mar. 27, 4-8 p.m., Sarratt 216/220
Mar. 27, 4-8 p.m., Sarratt 325, 327
Mar. 29, 1-5 p.m., Sarratt 363
Apr. 3, 4-8 p.m., Sarratt 216/220
Apr. 3, 4-8 p.m., Sarratt 325,327
Apr. 5, 1-5 p.m., Sarratt 363
Apr. 10, 4-8 p.m., Sarratt 216/220
Apr. 10, 4-8 p.m., Sarratt 325, 327
Apr. 12, 1-5 p.m., Sarratt 189
Apr. 17, 4-8 p.m., Sarratt 110
Apr. 19, 1-5 p.m., Sarratt 363
Contact: Greg Tomlinson
greg.tomlinson@owen.vanderbilt.edu