Media Inquiries
Latest Stories
'Living the good life' is theme of public talks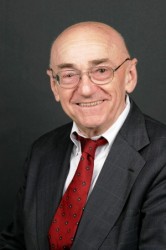 Vanderbilt University Centennial Professor of Philosophy John Lachs is the lead-off speaker Feb. 23 for a new series of talks that aims to make philosophy accessible and relevant for the public. Lachs will discuss "Why Is Good Enough Not Good Enough for Us?" from 7:30 to 8:45 p.m. in Furman Hall, Room 114.
"The Berry Lectures in Public Philosophy provide a wonderful opportunity to reach a broader audience beyond our students and academic colleagues," said Robert Talisse, professor and chair of the Vanderbilt philosophy department. "These talks aim to bring out the ethical questions that people ask themselves all the time and examine them from an understandable philosophical perspective."
The other scheduled speakers and dates are:
In the first lecture, Lachs will address the human drive for perfection. "It is distressing to see that people are unwilling to settle for achievable goals," he said. "Instead, we throw ourselves into a rat race of endless striving that makes peace and satisfaction difficult to attain."
Talisse said that sometimes the academic field of philosophy seems to get a bad rap by the public. People do not grasp its immediate relevance to their lives.
"Part of the misconception has to do with the fact that the big questions in life are often complicated," Talisse said. "One might need to step back and define something – such as moral responsibility – before reaching a conclusion on whether a particular action is good or bad. The public might not fully understand the process of how philosophers reach a conclusion. And philosophers do not always take care to make their ideas accessible to the public. [rquote]With the Berry Lectures, four Vanderbilt philosophers will address a public audience about questions that matter to us all."[/rquote]
The overall theme for this semester's lectures is how to live the good life. Participating professors will address each topic for not longer than 30 minutes and then invite audience members to participate in a wide-ranging discussion.
Each talk, which opens with an informal reception, will be in Furman Hall, Room 114, from 7:30 to 8:45 p.m. For more information, contact Talisse at robert.talisse@vanderbilt.edu.
Video of the lectures will be posted afterwards at Vanderbilt News.